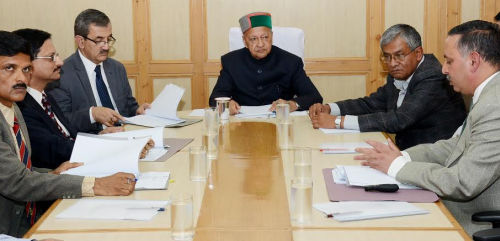 The H.P. Forensic Science Development Board, in its meeting given approval for Voice Identification Division and Digital Forensic division at State Forensic Science Laboratory (FSL), Junga.
The Board, in its 8th meeting presided by the Chief Minister Virbhadra Singh, also approved creation of District Mobile Forensic Units (DMFU) and gave its nod to the five year perspective plan as well as annual plan of Action for induction of forensics into investigations.
The Board approved the setting up of Disaster Victim Identification Cell at State FSL and Regional Forensic Science labs.
The Chief Minister Virbhadra Singh said that forensic science had become one of the most important areas of scientific study in the present era and the latest techniques and equipments were required to bring the criminals to book.
Singh said that the role of Forensic Science in the area of criminal prosecution has proved vital in bringing many criminals to justice who might have otherwise slipped, adding that many of the crimes committed would have gone unsolved and most definitely the criminals unpunished, in absence of latest digital technology.
Investigators can have confidence, if the evidence produced for an investigation or presentation in court is of the highest standard, he said, adding that, there was a need to strengthen the cyber forensic division too.
Chief Minister said that Forensic Department was playing an important role for detecting crime and stressed for full-fledged digital forensic divisions in the State to analyze digital evidences under one roof and provide timely inputs and forensic intelligence to the investigation agencies.
The Chief Minister stressed for adoption of Voice Identification and Digital Technology as more digital evidences were encountered in the investigations and said that it should be initially introduced in the Forensic Science Headquarters at Junga and thereafter in the Regional Centers situated at Dharamsala and Mandi.
Focus should be on training of officers and officials of Police, Judiciary, Prosecution, Health, State Forensic Laboratory and other concerned departments.
The Chief Minister said that he was well aware of the problem of shortage of Staff, the problems being faced by them and the infrastructure and other paraphernalia required for proper functioning of the department. He said that a proposal with regard to incentives to the staff and creation of the posts be moved as per the norms and assured that the matter would be looked into.
Earlier, Director FSL Junga, Arun Sharma gave a power point presentation on the achievements of FSLs in the State and detailed the Board about the milestones it has achieved.
Advocate General Shravan Dogra, Chief Secretary, P. Mitra, Director General of Police, Sanjay Kumar, Additional Director General of Police S.R. Ohja, Chief Forensic Scientist, Ministry of Home Affairs AK Ganjoo, and other senior officers were present on the occasion.