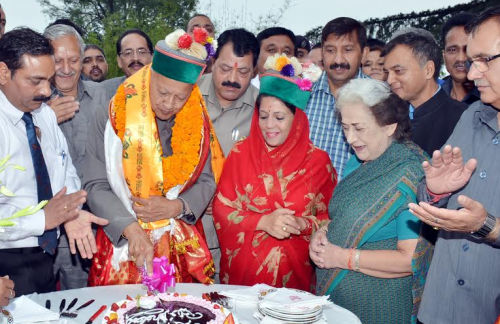 Chief Minister Virbhadra Singh celebrates his 81st birthday with his supporters at his residence Holly Lodge in Shimla.
Thousands of his supporters made a bee-line to Holly Lodge to wish long and healthy life.
The Chief Minister along-with his wife Pratibha Singh and his son Vikramaditya Singh, State Youth Congress President welcomes well wishers. The Chief Minister thanked his supporters for their wishes.
Born in 1934, Virbhadra Singh has a long cherished socio-political carrier. He entered politics in the Year 1962 when he became Member of Parliament and since then there is no looking back for him.
His Cabinet colleagues, Irrigation & Public Health Minister Vidya Stokes, Industry Minister Mukesh Agnihotri, Urban Development Minister Sudhir Sharma, Excise & Taxation Minister Prakash Chaudhary, Rural Development & Panchayati Raj Minister Anil Sharma, Social Welfare & Empowerment Minister Dr. (Col) Dhani Ram Shandil along with Chief Parliamentary Secretaries Nand Lal, I.D. Lakhanpal and Mansa Ram, MLA's Mohan Lal and Balbir Singh Verma also visited Holly Lodge to wish Chief Minister on his birthday.
Chairman, State Pollution Control Board Kuldeep Singh Pathania, Chairman H.P. State Marketing Board Subhash Manglet, Chairperson State Women Commission Janeb Chandel, Vice Chairman, H.P Forest Corporation Kewal Singh Pathania, Vice Chairman, State Disaster Management Board Rajinder Rana, Vice Chancellor of H.P University Prof. ADN Bajpai, Additional Chief Secretary V.C Pharka, Chairman, H.P Board of School Education Balbir Tegta, Advisor to the Chief Minister T.G Negi, OSD to the Chief Minister T.C Janartha, DGP Sanjay Kumar, ADGP S.R Mardi, Deputy Commissioner Shimla Dinesh Malhotra, Director Information and Public Relations Rakesh Sharma, SP Shimla D.W Negi, Congress party workers and common people of the town were also present on the occasion.
Chief Minister Virbhadra Singh didn't forget to share his birthday celebration with the differently- abled children.
He visited Deaf and Dumb Institution at Dhalli. He said that it always gives him immense satisfaction to be with them. "I highly appreciate your potential and reasoning and I am confident that proper training and education will take you to new heights and I wish a bright future for you" said Chief Minister.
He also announced a sum of Rs 10 lakh for renovation of the existing building of the centre and up-gradation of school from 10th to plus two. The Chief Minister assured adequate assistance to the institution as and when required.
Later, the Chief Minister inaugurated the blood donation camps at Rajiv Bhawan, Ridge and Sanjauli organized by the INTUC, Bushahr Students Welfare Organization and Vice-chairman HPTDC, Harish Janartha respectively.