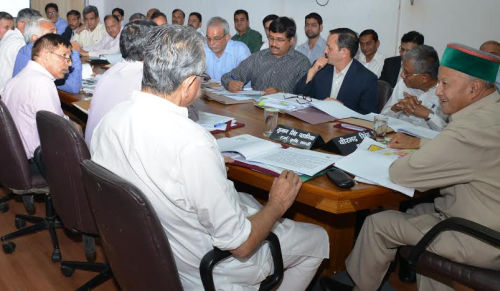 Chief Minister Virbhadra Singh directed the MPP & Power department to take extra-precautions for averting any mishap in future while discharging water from all dams in the State. He said that safety norms should be strictly enforced and before releasing the water, announcement should be made through vehicles down the stream besides use of hooters.
Virbhadra Singh, in the review meeting of MPP & Power and Non Conventional Energy Sources department here today said that lesson had to be learnt from the Larji dam mishap and every precaution should be taken in future by all concerned departments. He said that fencing on two-three kilometers stretch would be done on all Dams besides other sensitive and dangerous zones and proper sign boards would be installed at such areas. He said that a high level enquiry had been ordered and stern action would be taken against those found negligent or defaulters for this incident.
The Chief Minister directed the authorities to ensure timely completion of all ongoing hydro power projects in the State adding that any delay results in cost acceleration of both project work and electricity as well. The State had 27,436 MW identified hydel potential and efforts were being made to harness this potential which would be an important source for the revenue generation to the State.
Virbhadra Singh said that vacant posts of Linemen and T-Mate would be filled up on priority at circle level through single day interview to provide employment opportunity to the local youth. The government had taken a decision to fill up the posts of Assistant Engineers, Junior Engineer's and draughtsman of PWD, I&PH and MPP and Power through joint interviews for which respective departments would submit the details of vacancies.
He said that the work of preparing Cumulative Environment Impact Assessment (CEIA) reports for all five river basins in the State was in progress. CEIA studies on Sutlej basin had been already completed and the final report had been submitted while studies on Chenab, Beas, Ravi and Yamuna basins were in progress at various levels.
The Chief Minister said that the recommendation of the committee constituted for simplification of procedure for grant of NOCs and clearances by Departments and Gram Panchayats, which was accepted by the Government, had resulted in redressing the time taken in the execution of hydro power projects. He also directed the Department to positively solve the issues raised by the local people in the project areas in order to allay their fears so that construction of power project can be carried out with the local people support.
Virbhadra Singh said that 5482 beneficiaries of 14 panchayats of Chamera-III (231 MW) project area would be provided cash incentives to the tune of Rs. 1.83 crore on account of sale of one percent power for the period with effect from July, 2013 to 31 March, 2013. This will be even every year from the sale of electricity during the life time of the project.
He disclosed that 13 hydro power projects of 796.47 MW capacity were commissioned during April, 2013 to May, 2014 and 12 more projects having 1353 MW capacity would be commissioned during this financial year including 800 MW Kol Dam project. He said that total 5,000 MW additional hydro power capacity would be commissioned in 12th Plan. He directed the department to actively pursue the various issues faced by the projects in order to get the forest and environment clearances.
The Chief Minister asked the HPSEBL to explore the possibilities of laying underground electric cables especially in tribal areas of Lahaul-Spiti district in order to speed up the work on transmission lines.
While reviewing the progress of HP Power Corporation Limited (HPPCL) the Chief Minister informed that it had 20 hydro projects in hand aggregating to 3104 MW. He said that solar project of 5 MW capacity was being taken up for execution at Berra-Dol in district Bilaspur.
He said that Kashang Stage-I HEP (65 MW) would be completed by March, 2015 while Kashang stage-II& III HEP (130 MW) would be completed in March, 2017. Sainj (100 MW) HEP would be commissioned in August, 2015 while Sawra-Kuddu HEP (111 MW) would be completed in June, 2016. The Shongtong-Karchham HEP (450 MW) would be completed in August, 2017. He directed the HPPCL to adhere to the completion time line.
The Chief Minister also reviewed the progress of HIMURJA and directed the authorities to seek enhancement of Solar Photo voltaic power plants at Kaza-Sipiti and Kinnaur from 2 MW to 3 MW each. He said that HIMURJA was commissioning 16 small hydroelectric projects up to 5 MW with capacities of 65.10 MW out of which seven projects of 26 MW capacities would be commissioned soon.
While reviewing the works of H.P Power Transmission Limited (HPTCL), the said that 33/220 KV 100 MVA sub-station at Fozal in Kullu district, 220 KV LILO line for Fozal sub station and 220 KV line from Karian to 220/400 KV Chamera would be completed soon while 33/220 KV, 63 MVA sub station at Karian had already been commissioned.
He directed that transformers should be set up in those areas which were suffering low voltage problem and also asked the authorities to take appropriate steps to replace the old transformers.
Sujan Singh Pathania, MPP & Power Minister thanked the Chief Minister for convening the meeting of the department and giving directions to improve and speed up the ongoing projects in the State. He said that directions of the Chief Ministers would be implemented in letter and spirit.
Chief Secretary P. Mitra, Additional Chief Secretary V.C Pharka, Principal Secretary MPP& Power SKBS Negi, Director, Energy R.D Nazeem, Special Secretary Finance K.R Bharati, Chairman HPSEB P.C Negi, Managing Director, HPPCL D.K Sharma, Managing Director HPTCL J.C Sharma and other senior officers were present in the meeting.