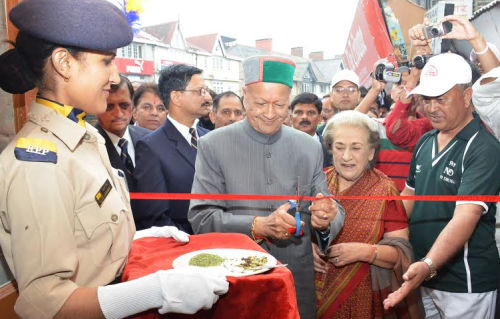 Chief Minister Virbhadra Singh inaugurated the Fully Computerized Police Assistance Control Room on the Mall.
Fully Computerized Police Assistance Control Room will compile and monitor the record of the all calls received on emergency number 100, and thereafter will send the message simultaneously to the executing agency for necessary and time bound action at their end.
Earlier, Chief Minister Virbhadra Singh distributed the prizes to the winners of Half Marathon organsied by the Himachal Pradesh Police department at the historic Ridge Maidan today.. The run was organised to spread awareness against drug abuse
In the 21.5 kilometers Half Marathon in senior male category, Jitendar Singh won the first prize of Rs 25000 followed by Ravinder Kumar and Devendar Singh who were given cash prize of Rs 15000 and 11000 respectively. In female category, Rooma topped the tally followed by Supriya Patil and Amandeep Kaur with similar cash prize as their male counterparts and certificates of participation.
The winners of Mini marathon of 10 kilometers distance were Sunil Prasad, Jagmal and Rahul in male category and Kavita Patel, Kanta Devi and Kiranjeet Kaur in female category and given cash prize of Rs 11000, Rs 7500, and Rs 5100 respectively, along with certificates.
While addressing the Marathon, Chief Minister lauded the Himachal Police effort of organizing awareness event against drug abuse. CM stated
"I hope that the people would follow the theme "Make health your 'New High' in life, not Drugs" in their day to day life and will spread the message of ill effects of the drugs between the masses",
Virbhadra Singh said that today drugs addiction in almost all the countries was a cause of concern. The consequence of such addiction, abuse, trafficking or even cultivation can be devastating, adding that unfortunately the youths were the most vulnerable on hard drugs and this brings a lot of adverse effects on the community besides affecting their health and promoting community crime.
Irrigation and Public Health Minister Vidya Stokes, Vice Chairman State Planning Board, Gangu Ram Musafir, Deputy Mayor, Tikender Panwar, Vice Chairman, HPTDC, Harish Janartha, Lieut. General Sanjeev Madhok, ADGP, SR Mardi, ADGP AP&T, Ohja, Retired DGP Rati Ram Verma, Director General of Police, Sanjay Kumar, Deputy Commissioner, Dinesh Malhotra, SP Shimla DW Negi and all the senior officers of the police department were present on the occasion amongst other dignitaries.