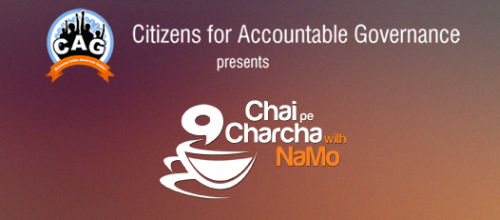 BJP organised "Chai Pe Charcha with NaMo" on International Women's Day in collaboration with Citizens for Accountable Governance at 1,500 locations across the country through Internet from the party's headquarters in Delhi.
BJP prime ministerial candidate Narendra Modi answered queries on women empowerment by people across the country. While attracting with women, Modi said that women playing an important role in nation-building. Modi said there was a pressing need for more effective role of women in the elections and felt this would be beneficial for the nation.
He emphasized on the need to change the outlook in the society towards the women. He said that discrimination against women is the root of all troubles and suggested to frame strong law and speedy justice to create fear in those who commit crime against women.
Narendra Modi stated that economic freedom plays a very important role in empowering women. He said that women should be free to choose, their career, education, marriage and having a family. He also talked about the need of offering incentives for women in research.
BJP prime ministerial candidate said that women participation in economy can help to increase GDP. He also suggested to work on improve the image of the police in India and advised to recruit women in police forces in greater numbers. Modi also advocated ensuring flow of finances to women's self-help groups and cottage industries.