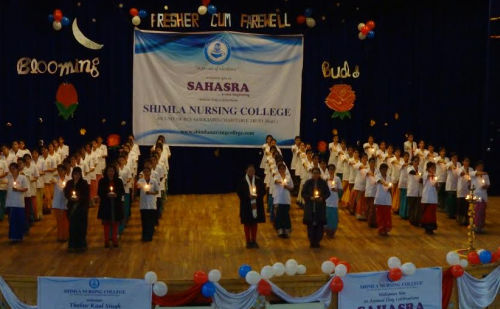 Shimla Nursing College organised its 4th annual function at the auditorium of Indira Gandhi Medical College Shimla.
The function was themed 'blooming buds' and spirited performance from college students lighted up the auditorium. Function was a perfect mix of cultural diversity where Kinnauri, Pahadi dance, Gujarati Garba, Ramp and Fashion walk were complementing each other. The students ended the day with a very emotional play about the social plight of women in India.
Earlier, Chief Guest Kaul Singh Thakur, Health & Family Welfare Minister started the function by lighting the lamp. Dr. Jai Shree Sharma (DME) was the guest of honour for the day. Dr. SS Kaushal, Principal IGMC, Shanti Chauhan Registrar, HPNRC, Ramesh Sood, Chairman, Shimla Nursing College, Pinky Chongtham Principal Shimla Nursing College, Kimi Sood and other Directors, Principals, faculty members from various colleges of Himachal Pradesh were among the other dignitaries present for the function.
Ramesh Sood, chairman of Shimla nursing college welcomed and honoured the chief guest Kaul Singh Thakur.
Kaul Singh Thakur, while addressing at annual function, hailed the initiative of college and congratulated the management and students of College for showing exemplary commitment towards academic excellence.
Thakur also congratulated the students for bagging 18 positions in the university merit list – GNM and B.Sc. Nursing Exams.
He also launched the first edition of Shimla Nursing College magazine – Sparsh
Chief Guest Kaul Singh Thakur and Dr Jaishree Sharma along with other guests gave away the prizes for the best performances of the academic year as well as the cultural show.