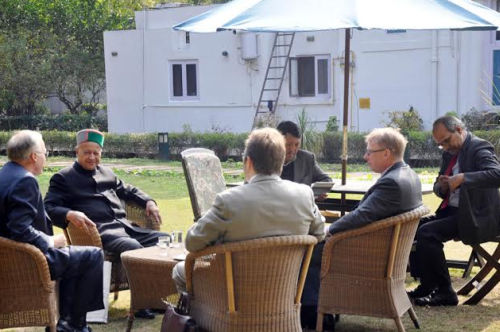 New Delhi: Norwegian Government has expressed its desire to invest in Himachal Pradesh in a big way, particularly in the field of hydro-power due to vast hydro-power potential available in the State.
Eivind S Homme, Ambassador of Norwegian Embassy conveyed the sentiments of his country regarding investing in the field of hydro power to Chief Minister Virbhadra Singh at New Delhi today. He said that Norway and India already enjoyed the excellent bilateral relations based on mutual interests and values.
He apprised that Norway has a good track record in the field of hydro-power technologies and the Norwegian company SN Power has already two power plants Allain Duhangan and Malana in Kullu district. The company was very appreciative for the support extended to them by the State Government, he added.
Virbhadra Singh assured Homme of all possible assistance to the Norwegian Government so as to give boost to the bilateral relations between the two Nations besides giving fillip to investment and trade in hydro-power and tourism sectors. He said that Himachal has initiated various measures to attract investors in the State and has announced various sops for the entrepreneurs. He said that Government was providing them necessary facilities like eco-friendly environment and sufficient electricity supply on economically viable rates for setting up their projects in the State. He said that the Government of Himachal Pradesh was ensuring timely clearance of various projects.
Chief Minister said that due to difficult topography and geographical conditions, Himachal Pradesh has its own challenges and despite all this, the State Government was committed to make Himachal a power State and favourite industrial hub for the investors. Efforts were being made to boost infrastructural facilities in the State including far-flung areas so that economic activities and employment opportunities could be generated to the educated youth, he added.
T.G. Negi, Advisor Chief Minister, Subhash Ahluwalia Pr. PS to Chief Minister V. C. Pharka, Pr. Secretary to the Chief Minister and P. C. Dhiman Pr. Resident Commissioner, New Delhi were also present on the occasion.