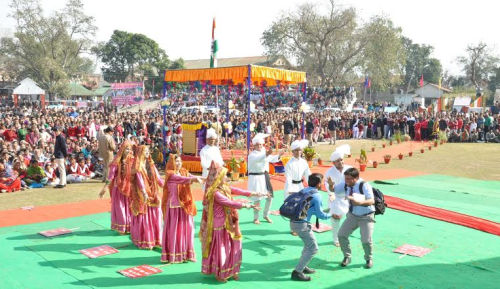 Dehra: Himachal Pradesh completes 43 years of Statehood today. State Level function was organized to mark the occasion at Shaheed Bhuvnesh Dogra Stadium Dehra in Kangra district today where Chief Minister Virbhadra Singh unfurled the National Flag and took salute at an impressive march past presented by Police, Mahila Police, IRB Battalion, Home Guards, NSS. Punit Raghu, Deputy Superintendent of Police commanded the Parade.
While felicitating the people of the State on the occasion of Statehood Day, Chief Minister Virbhadra Singh said that starting its developmental voyage as a under developed and poor State, Himachal Pradesh today has not only emerged as a model of development of hill areas in the country, but has also shown the way to big states by becoming a pioneer in various fields. While giving credit of this to the hardworking and arduous people of the State, Virbhadra Singh said that successive Congress Governments at the Centre and the State also gave positive direction to the developmental endeavours of the State.
Virbhadra Singh said that the per capita income of the State, which was merely Rs 651 in 1971 has gone up to Rs. 82,611 in 2013-14 and the Gross Domestic Product at current prices has shot up from Rs 223 crore in 1971 to Rs 72,076 crore. He said that food grain production has increased from 9.36 lakh metric tonne to more than 15.34 lakh metric tonne, and fruit production from 1.49 lakh metric tonne to 5.41 lakh metric tonne. He said that there were only 4963 educational institutions in 1971 whereas today 15,292 educational institutions providing quality education to the youth of the State.
Terming the present one year tenure of the State Government as a fruitful and productive, Virbhadra Singh said that the Government has strived hard for the welfare of the common man and balanced development of all areas of the State.
Chief Minister said that over 7500 kms new roads would be constructed in the State in the next four years and Rs 285.75 crore has been sanctioned under World Bank Rural Road Project for construction of 19 new roads and three bridges. He said that over 117 additional villages have been connected with roads and 403 kms new roads and 29 bridges constructed during the last over one year. Over 390 kms roads have been constructed under Pradhan Mantri Gram Sadak Yojana during this period and 91 habitats connected by roads, he added.
Virbhadra Singh distributed 25 Digital Note books to students of 10th and Plus Two under the Rajiv Gandhi Digital Students Scheme. He said that that a total of 5000 Note Books would be distributed to the meritorious students under this scheme.
Referring to the development of Kangra district, Virbhadra Singh said that Kangra was the largest and most important district of the State. He said that the State Government was committed to maintain identity of the district and would not allow its division as was being mooted by some vested interests. He said that during his previous tenure he had opened several offices in Dehra subdivision of Kangra district. He said that Mini Secretariat was opened at Dehra during his previous tenure. He said that Sub Division Hospital, Sub Division Ayurvedic Hospital, Office of Regional Manager HRTC, Office of Divisional Forest Officer, office of DSP were opened in Dehra during his earlier. He said that Science Block was also constructed at Government Senior Secondary School Boys Dehra during his previous tenure. He said that Sewerage Scheme was started for Dehra during his previous tenure, besides Nagar Panchayat Dehra was upgraded to Municipal Council.
Announcements
Chief Minister announced Rs 40 lakh for development of Shaheed Bhuvnesh Dogra Stadium, CT Scan Machine on Public-Private mode at Civil Hospital Dehra and Rs 4.30 crore of Government College Haripur.
Chief Minister also announced upgradation of Government Girls High School Dehra to Senior Secondary School, Government High School Beh Bhaunta to Government Senior Secondary School and Government Middle School Shivnath to Government High School.
For Jaswan-Pragpur Constituency Chief Minister announced upgradation of Government Girls High School Pragpur to Government Girls Senior Secondary School and Government Girls High School Garli to Senior Secondary School.
For Jawalamukhi constituency Chief Minister announced opening of SDM office at Jawalamukhi.
Chief Minister also announced opening of sub tehsil at Haripur (Guler), Gangath (Indora) and Panchrukhi.
Chief Minister also announced upgradation of Civil Hospital Jaisinghpur to a 50 bedded Hospital.
Transport and Civil Supplies Minister G.S.Bali, Rural Development and Panchayati Raj Minister Anil Sharma, Chief Parliamentary Secretaries Neeraj Bharti, Jagjivan Pal and I.D.Lakhanpal, former MP Viplove Thakur, MLAs, former MLAs, Chairmen and Vice-Chairmen of various Boards and Corporations, acting Chief Secretary P. Mitra, DGP Sanjay Kumar, Director Information and Public Relations Rajender Singh, other senior officers and prominent people of the area were present on the occasion.