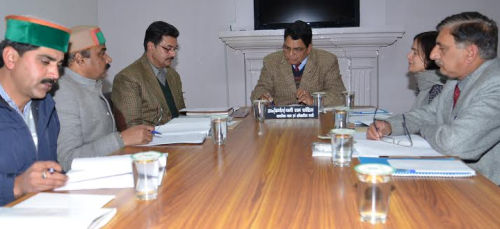 Shimla: In a meeting of the Board of Directors of the H.P Minorities Finance and Development Corporation here, today, Social Justice & Empowerment Minister Dr. (Col.) Dhani Ram Shandil stated that the Himachal Pradesh Minorities Finance and Development Corporation (MFDC) has distributed loans amounting to Rs. 1.67 crore to 86 persons belonging to minority families whereas loans worth Rs. 2.11 crore were disbursed to the physically disabled as financial assistance during this year.
Minister also expressed hope that loans amounting to Rs. 2.50 crore would be further distributed during next three months to the both beneficiary categories.
Shandil said that the Corporation has so far provided Rs. 36.10 crore loans since 1997 to 2820 people belonging to minority community and the handicapped beneficiaries. The Corporation was also ensuring proper publicity of the various schemes and programmes being implemented for the welfare of minority community so that maximum beneficiaries could be benefited.
The Minister said that the Corporation would also organise entrepreneur's development training programme for the beneficiaries. He also appreciated the efforts of the Corporation management and employees in effective implementation of the programmes and decisions.
The non-official members of the BoD and senior officers of the Corporation and Child and Female Welfare department were present in the meeting.