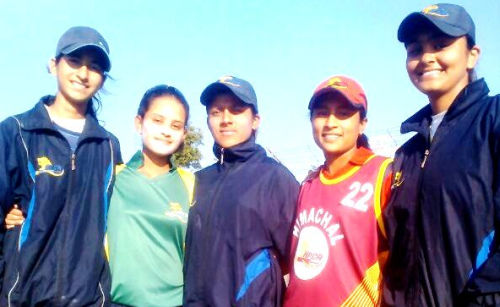 Five women players of Himachal Pradesh Cricket Association (HPCA) has been selected for the women's under 19 zonal team for the inter-zonal matches scheduled to be played from 28th October,2013 at Guwahati.
Sushmita Negi of HPCA will captain the side. The team is
1. Sushmita Negi – HPCA- Captain
2. Kashish Verma – HPCA
3. Neha Chauhan – HPCA
4. Tanuja Kanwar – HPCA
5. Harleen Kaur – HPCA
6. Priya Punia – DDCA
7. Neelam Bisht – PCA
8. Bhawana Ohlan – Haryana
9. Vaishali Mathur – DDCA
10. Tanya Bhatiya – PCA
11. Laxmi Yadav –DDCA
12. Rubia Syed – J&K
13. Urvashi Saini – Haryana
14. Meghna Mathur – Haryana
15. Sapna Jamwal – J&K
Anurag Thakur president HPCA congratulated the all players. He said
"We congratulate the selected players for their stupendous effort and are very sure that they will do well at the national knockout stage. The womens team has been consistently performing well and this is a testimony to that"
Thakur added that it has been possible by providing the best infrastructure and coaching to the players. He said that HPCA was committed for the welfare of budding cricketers and promoting sports in this hill area. He vowed to make the HPCA a national force in the years to come.