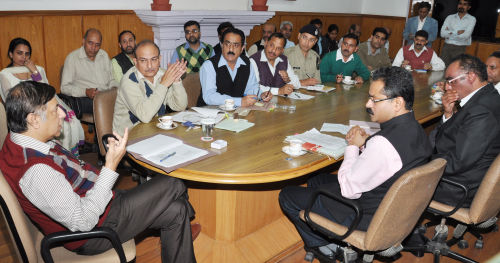 The alarm/siren systems set up at CTO Building, Mall Road, Shimla and near State Secretariat will not be used to sound alerts at 10 AM i.e. office hours from 1st October, 2013. It will now only be used as alarm system for sounding warning during emergency situation such as earthquake, fire etc. incidents, as reaction time for safe escape of people. These sirens will give the voice signal in distinctive increasing and decreasing sound levels instead of steady sound so that alarm could be capable of being perceived by all.
Chief Secretary Sudripta Roy said this while presiding over a preparatory meeting held here today for conducting Mock Drill on Disaster Management at State Secretariat scheduled to be conducted on 8th October 2013. He said that during the mock drill real life disaster of earthquake would be stimulated for awareness generation regarding disaster management. He said that every employee posted at the State Secretariat should be aware about the activities to be carried out during the rescue operations.
He said that various teams for awareness generation, warning, information, search, rescue, evacuation, fire fighting, alarm, space, transport management and media management had been constituted for this mock drill.
Tarun Shridhar, Principal Secretary, Subhashish Panda, Secretary, GAD, Amarjeet Singh, Commissioner, Municipal Corporation Shimla and senior officers of the State Government were present in the meeting.