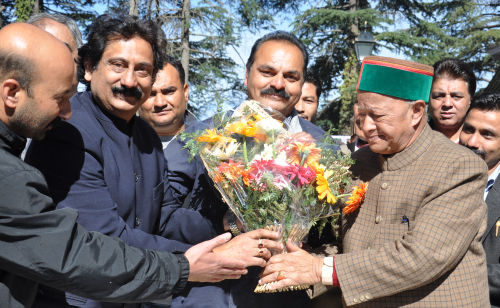 Shimla: Former Ranji players and other cricketers represented Himachal Pradesh on various level, openly came out against Himachal Pradesh Cricket Association (HPCA) president Anurag Thakur, alleging that his HPCA Company has always watched the interests of non-Himachali players.
A deputation of Cricketers Welfare Forum led by Vijay Sen and Anil Sen, former cricket captains and Ranji Players including Rahul Panta, a Ranji player, and other players Naveen Tanwar, R.R. Roohi, Kailash Aggarwal, Yashwardhan Chauhan and Keny Chauhan, called on Chief Minister Virbhadra Singh and thanked him for liberating the game of cricket from clutches of HPCA and retrieving the land given on lease to them at Dharamshala, Amtar in Nadaun in Hamirpur district and Lalpani in district Shimla.
The Deputation said that many talented players of Himachal Pradesh were deprived off playing Ranji Matches from Himachal Cricket Team and other tournaments as well, whereas outsiders, especially players from Punjab were given preference sidelining talents of the players of the State.
Chief Minister said that Government had no intention to takeover any sports body or association in the State and especially cricket in particular. He said that the Government was committed to ensure fairness and transparency in functioning of various Association and Sports Bodies. He said that during his previous tenure he brought out the Sports Bill to ensure proper democratic set up and make elections mandatory for all sports bodies in the State which was repealed by the previous BJP Government to give undue advantage to few selected persons.
Later speaking to the press at Shimla, these cricketers accused Anurag Thakur for failing to promote domicile players and sport in the state. They claimed that half of team comprised players from the outside.
These players also rejected the euphoria over cricket infrastructure in the state and accused that there was no effort to promote the game at the grassroots level. Anil Sain said that the "credit for giving funds for the stadium in the state goes to the Board of Cricket Control of India (BCCI)" and it allotted funds to every state cricket body in India.
The Cricketers Welfare Forum also accused HPCA for grossly failed to bring Himachali players to the forefront and for the past over decade, the inter-district cricket matches are also not being held.
Cricketers Welfare Forum also accused Anurag Thakur for running HPCA like his own properties and taking total control over it. Forum questioned the need of creating a category of "life members" who are 25 in number, most of them are outsiders or Dhumal,s relatives and have no association and contribution with state cricket.
Ex cricketers also accused HPCA and Anurag Thakur for ignoring them and especially not giving them free tickets during the national and international matches. They accused that HPCA hadn't utilised their services and appointing former players of neighbouring state as coaching and other staff.
Other accusations:
In July 2001, Anurag Thakur nominated his father and then Chief Minister Prem Kumar Dhumal as Chief Patron with voting right.
In 2002, Anurag Thakur brought his cousin Vikram Rathore, the then captain of Punjab team to elad Himahcal team in Ranji Trophy, citing the reason that this will improve the standing of team in the national championship but the net result of this was that the team got relegated from ELITE Group to Plate Group, which is lowest in standing.
24 players with Fake school certificates/ fake Himachali Bonafiode Certificates are playing Cricket in HP. A case has already been filed in the Court against Vikramjit Malik and Kuldeep Dhawan current Ranji Players.
What was the necessity of converting HPCA registered under Societies Act into a private limited company?
Also raised doubts over the loan of Rs. 12 cr taken by HPCA has been taken from Jalandhar bank against the properties in HP despite the fact that he claims that the Anuual budget of HPCA is more than 25cr and libral funds from BCCI are coming.