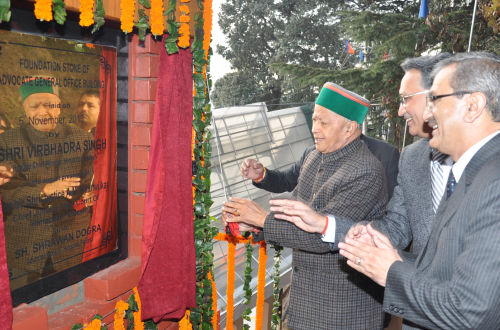 Shimla: Chief Minister Virbhadra Singh laid the foundation stones of new Block of High Court of Himachal Pradesh and Advocate General office building at High Court here today in the presence of Chief Justice of H.P. High Court Mr. Justice A.M. Khanwilkar.
The five storied New Block of High Court building would be constructed at a cost of Rs. 21 crore 74 lakh with parking facility for 30 vehicles while five storied Advocate General Office building would be constructed at a cost of Rs. 8 crore 46 lakh with parking facility for 24 vehicles.
Speaking on the occasion, Chief Minister said that Judiciary, Executive and Legislative were the foremost pillars of development in a democratic set up and public good and justice is the primary objective of all. He said that the State Government was committed to facilitate and help judiciary to work in most congenial atmosphere. He said that the new complex would provide better working environment and facilities and the delivery of services to the people would also get fillip.
He directed the Public Works Department to complete these buildings within stipulated time frame as delay not only leads to escalation in cost but the targeted facilities and services also get delayed causing inconvenience. He said that Administrative Block of High Court constructed at a cost Rs. 13 crore 50 lakh was dedicated recently.
Virbhadra Singh said that new Judicial Complex of District Courts, Shimla was handed over in January this year constructed at a cost of Rs. 41 crore which was the highest ever cost incurred on the construction of a government building in recent times by the State Government. He said that the construction work of Parking for District Court Complex at Chakkar, Shimla was in progress and parking facility for 160 vehicles would be provided by spending Rs. 11 crore.
Chief Minister said that High Court complex had been expanded at fast pace as compared to other institution. He said that Government would provide liberal funding for further expansion of this complex and other judicial offices in the State. He said that all possible assistance would be provided to complete the advocate chamber block of High Court. He said that office of Lokayukta was opened during his earlier tenure and anybody can complain against the elected representatives, officers and officials for any wrong doings.
Virbhadra Singh stressed the need of IT in judiciary and said that advocates should use this technology extensively and update their knowledge and skills to keep abreast with the latest judgments.
Advocate General and President of H.P. High Court Bar Council Shrawan Dogra said that Advocate Chamber block for Advocates was being constructed near High Court with an estimated cost of Rs. 12 crore. He said that about 300 chambers would be constructed for the advocates in this Block and advocates have collected Rs. six crore as their contribution which was already utilized. He said that additional burden was put on them because of unexpected landslide. He sought State Government financial assistance for the completion of this building.
Judges of H.P. High Court, Justice D.D. Sud, Justice Surinder Thakur, Justice Sanjay Karol, Justice Kuldip Singh, Justice Rajiv Sharma, Justice V.K. Sharma, Lokayukta Justice L.S. Panta, Registrar General, High Court A.C. Dogra, President, High Court Bar Association Ashwani Pathak, Deputy Mayor MC Shimla Tikender Singh Panwar, Principal Secretary, Law Chirag Bhanu Singh, Deputy Commissioner Shimla Dinesh Malhotra, SP Abhishek Dullar, retired judges, advocates and senior judicial and civil officers were present on the occasion.