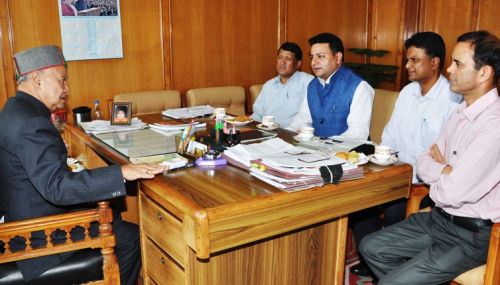 In a State Level Steering Committee Meeting under JNNRUM, Chief Minister Virbhadra Singh reviewed the status of proposals submitted for executing various development projects under Jawaharlal Nehru National Urban Renewable Mission (JNNURM) for Shimla Municipal Corporation area.
Virbhadra Singh said that road improvement, widening and strengthening from Old Barrier near Tourist Information Centre on Ciruclar road via Victory Tunnel upto Bemloie with estimated cost of Rs. 50 crores should be incorporated for Government of India (GoI) funding under JNNURM.
Chief Minister also reviewed the proposals to the tune of Rs. 68.74 crore for improvement of storm water drainage system and improvement of roads in Shimla town during the meeting.
Virbhadra Singh directed the Engineer–In-Chief, Public Works Department to prepare the estimates as per requirements of JNNURM for further submission to GoI within 15 days. He also reviewed the status of proposals prepared for other Urban Local Bodies amounting to Rs. 269 crore for nine water supply schemes and sewerage schemes amounting to Rs. 112 crore. He directed the Urban Development Department to ensure that the Detailed Project Reports (DPRs) submitted to the GoI were processed at earliest.
Urban Development, Housing and Town & Country Planning Minister Sudhir Sharma, Principal Secretary to Chief Minister V.C. Pharka, Secretary Urban Development and Town & Country Planning, K. Sanjay Murthy, Engineer-In-Chief Public Works Department were present in the meeting.