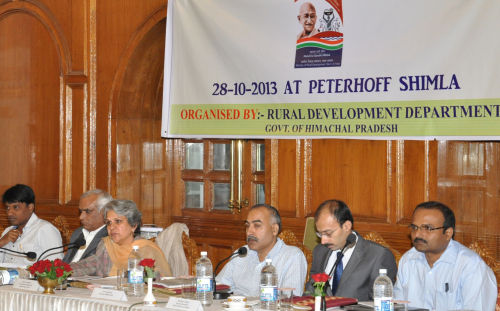 Shimla: Rural Development Department organised a State level workshop on convergence in Mahatma Gandhi National Rural Employment Guarantee Scheme (MGNREGA) here today with the objective of supplementing wage-employment opportunities in rural areas of the state and to create sustainable livelihoods through rejuvenation of natural resource of land, water and forests.
Principal Secretary, Rural Development and Panchayati Raj, Upma Chaudhary in her inaugural address said that MGNREGA was being effectively implemented in Himachal Pradesh and scheme was helping in creating sustainable livelihood opportunities especially for eligible rural populace. She said that 100 days guaranteed wage employment was being provided in a financial year to those adults who volunteer to do unskilled manual work. She said that MGNREGA was helping in decentralized planning and under the scheme it was ensured that at least 50 percent of works must be implemented by Gram Panchayats. It was helping in maintaining transparency and accountability, she added.
She said that convergence of the scheme would help in creating durable assets and securing the livelihood of rural households besides supplementing MGNREGA resources available with panchayats and other line departments. She asked the concerned officers to identify and discuss those projects in gram sabhas, which could be executed in convergence mode. She said that activities identified for execution under MGNREGA should be included in the annual shelf of its works. Convergence projects must be comprehensive so as to ensure time bound execution and wage: material ratio must be maintained at 60:40 at gram panchayat level.
Shrimati Upma Chaudhary said that State Government would bring MGNREGA works under the ambit of Social Audit so as to maintain transparency and proper utilisation of funds.
J.C. Chauhan, Director, Rural Development and Panchayati Raj welcomed the participants and gave a presentation on Convergence of different Programmes with MGNREGA. Niley Ranjan, Consultant, ministry of Rural Development, GoI, Sandeep Tambe, Special Secretary, Rural Development and Panchayati Raj, Sikkim Government, Kiran Gurrala, Additional Collector/ Project Director, Tamilnadu Governement and Ms. Kanchan Verma, Special Secretary, Uttar Pradesh Government also gave a presentation on the topic regarding its implementation in various states.
Head of the Departments of line departments, Deputy Commissioners of various districts of the state, Project Officers, Block Development Officers and other stakeholders' alongwith officials of Central Government participated in the workshop.