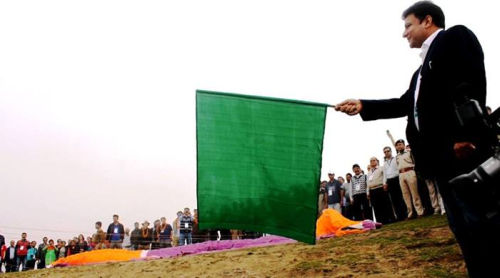 Much awaited Pre-World Cup Paragliding Championship started today at Bir near Baijnath in Kangra district. Minister for Housing and Urban Development Sudhir Sharma, who is also a president of the Billing Paragliding Association, inaugurated the event, in which about 100 pilots, including 75 international pilots and an Indian woman, will showcase their talent.
Covered by mountains and surrounded by rolling tea gardens, Bir-Billing is considered one of the finest aerosports sites in the world. Event organisers revealed that the take-off site at Billing, situated at a height of 2,325 metres, has been refurbished so that at least four gliders can take off at one time. The landing site at Bir, located at 1,360 metres height, has also been developed for safe landing.
However, today, on the first day of the event, only practice tasks of 48.7 km were given to participating pilots. However, the tasks were cancelled as cloudy conditions prevailed over the area and warm currents were not available. In the afternoon many paragliders, took flights adding colour to the skies in the Bir area.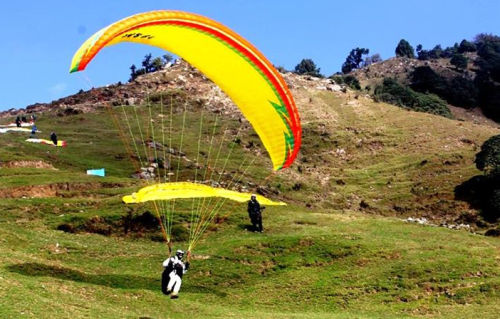 Sudhir Sharma while talking to media personnel vowed to promote Bir/Billing paragliding site on international circuit. He said that Bir/Billing paragliding site has immense potential and would be promoted by the state government for adventure sports. Sharma believed that this event will help to attract youth towards this adventure sport.
For any kind of emergency during the championship, organizers have hired a helicopter that will remain standby at Billing, ambulances with full medical team on takeoff and landing and a 25 person mountain rescue team.
Overall winner will be given Rs. 250,000 and runner up will get Rs. 200,000 and second runner up will get Rs. 150,000 cash reward. In Indian Class winner will be given cash prize of 110,000, 90,000 and 70,000 to first and second runner up. In Women Class cash prize of Rs. 75,000 will be given to winner and Rs. 65,000 for fist runner up and Rs. 55,000 to second runenr up, whereas in Sport Class Rs. 75,000 cash prize will be awarded to winner and Rs. 65,000 and 55,000 to first and second runner up.