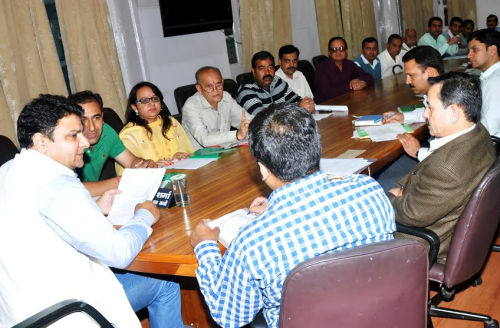 Urban Development Minister Sudhir Sharma said that the State government would take all necessary steps to provide various facilities to the residents of Pateog ward of Shimla Municipal Corporation. He was talking to the people of Pateog Ward who met him to apprise about their grievances here today.
He assured the deputation that keeping in view the compulsory acquisition of the land holdings of the people of Pateog village by the State Government in 1986 their houses would be regularized under one time settlement policy. He said that the assets of Pateog would be transferred to Municipal Corporation, Shimla to create various facilities like parking, roads, sewerage and streets lights etc. in the ward.
The Minister said that the he would take up the matter regarding giving permission to the permanent residents of Pateog to sell less than five biswas of land and settlement of Pateog with the Revenue Minister. He directed the Municipal Corporation for not charging any fee for transferring water meters within the family whereas for the transfer of electricity meters the issue would be taken up with the Electricity authorities.
Sudhir Sharma assured that primary health centre would be opened up at Pateog for which the land was already available and possibilities would be explored for opening fire station. On the demand of the local residents, he assured that Government would sympathetically consider exempting them from property tax as their land holdings were acquired by the State Government.
He said that all other genuine demands would also be considered and directed the concerned departments to send their report within 15 days. He said that a review meeting would be held after one month and various issues would also be discussed with the concerned Ministers so as to provide as much as relief possible to the residents of the Pateog.
Principal Secretary, Personnel SKBS Negi, Principal Secretary, Town & Country Planning R.D. Nazeem, Director, Town and Country Planning, Sandeep Kumar, Commissioner, MC Shimla Amarjeet Singh and other senior officers of various departments were present on the occasion.