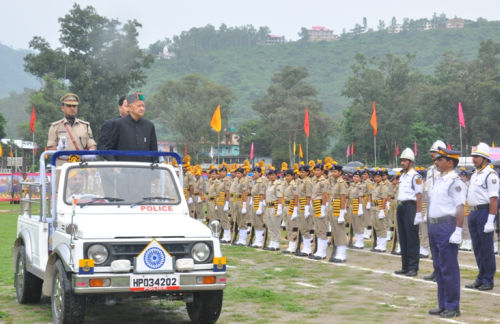 State Level 67th Independence Day was celebrated with fervour and great enthusiasm throughout the State today. Functions were organised at State, District and Sub- Division-levels to mark the occasion. Unfurling the national flag, march past presented by contingents of Police, Home Guards, National Cadet Corps, Scouts & Guides and cultural programmes were main highlights of the celebrations.
State-level Independence Day function was organised at Historic Paddal Ground, Mandi, where Chief Minister Virbhadra Singh unfurled the National flag and took salute at an impressive march past presented by contingents of Police, Home Guards, NCC. DSP Kulbhushan Verma commanded the parade.
Chief Minister also garlanded the statue of Father of the Nation Mahatama Gandhi at Gandhi Chowk near Seri Manch Mandi.
Speaking on the occasion, Virbhadra Singh extended his greetings to the countrymen, especially the people of Himachal Pradesh. He paid homage to the patriots, who fought for freedom of the country and to those, who defended and extended it. He gave a clarion call to the people of the State to maintain the hard won freedom, unity and integrity of the country.
Announcements:
Chief Minister announced to upgrade the Sub-Tehsil Kotli to Tehsil. It would fulfill the long pending demand of the people of the area and facilitate the revenue work.
Chief Minister said that 'Skill Upgradation Scheme' is an ambitious scheme of the government and in order to provide benefit to more youth of the state. He announced that the age group of 18 to 35 years will now be eligible, instead of earlier provision of 25 to 35 years under the scheme. The educational qualifications had also been reduced to 10th standard from 10+2. The registration process has also been simplified, instead of being registered with any Employment Exchange for two years from date of application; the applicant will now simply be required to be registered with any Employment Exchange on the date of application.
He said that the applicant now can file an affidavit regarding his or her being unemployed instead of filing an employment certificate issued by a Magistrate. He said that these amendments were made to enable more youth to develop and upgrade their skills in the sector of their choice, obtain employment and it would eventually lead to their empowerment.
Chief Minister announced 8 percent Additional Dearness Allowance to the employees and pensioners of the State Government with immediate effect. It would provide additional benefit of Rs. 400 crores to the employees and pensioners of the State.
Chief Minister announced that freedom fighters would now get enhanced honorarium of Rs. 10,000 from earlier Rs.7,500 per month. Likewise, their widows and un-married daughters would get Rs. 5,000 instead of Rs. 3,500 per month. He said that Rs. five crore would be spent during current financial year to provide honorarium to freedom fighters and their families.
He said that Congress always stood for commitment, credibility and development of the State. He said that the state government had included most of its poll promises in this year's budget to fulfill major commitments in the very first year and many of these had already been implemented. In a short period of seven and a half months, the State government had taken a string of initiatives and important decisions aimed at welfare of all cross–sections of society and uniform development of all parts of the State. The thrust of the Government ever since had been on all round development, clean administration, transparent and effective governance.
He said that Rs 1371 crore were being spent on social welfare sector during this year, which was 34 percent of total plan. Social security pension had been enhanced from Rs. 450 to Rs. 500 and senior citizens above 80 years of age were being given monthly pension of Rs. 1000. Besides, 10,900 pending cases of pension had been accorded approval and there was no pending case as of now.
Virbhadra Singh said that Rs 3836 crore were being spent on education sector during the current financial year, which was 18 percent of the total budget. Incentive of Rs 75,000 would be given to students on getting admission in degree courses in any Indian Institute of Technology or All India Institute of Medical Sciences and in Post Graduate/Diploma course in any Indian Institute of Management.
He said that National Food Security Bill, 2013 brought by the UPA Government was a historic step and the State government had decided to implement it fully. He said that moving a step forward, the State government was providing subsidized food grains to all the Ration Card holder families and it would be continued. He said Rs 175 crore would be spent under the scheme this year.
Virbhadra Singh said that financial assistance under the Mukhyamantri Kanayadan Yojana had been enhanced from Rs 21,000 to Rs 25,000. Besides, free traveling facility was being provided to the mothers and new born baby from hospital to their residence under Janani Suraksha Yojana. The allocation under the Scheduled Caste Sub Plan had been enhanced to Rs. 1014 crore giving an increase of Rs. 100 crore and Rs. 369 crore had been earmarked under the Tribal Sub Plan for development of the tribal areas this year.
He said that as many as 10,000 houses would be constructed for the houseless poor during the current year. He said that special emphasis was being given on strengthening rural economy by giving priority to Agriculture and horticulture sectors. Mukhyamantri Adarsh Krishi Gaon Yojana was being launched in one panchayat of each of all the 68 assembly constituencies and they would be given Rs. 10 lakh each, he added. To save the fruit crops from hailstorms, anti-hail nets are being provided to the fruit growers on 80 percent subsidy.
He said that National Ambulance Service had been expanded by adding 50 additional Ambulances to the existing fleet. The State Government had also decided to appoint 7750 ASHA workers under the National Rural Health Mission on honorarium basis, he said.
Chief Minister said that Environment friendly industries based on local raw material envisaging more employment to local people was being given utmost priority. It had been planned to develop three new state of the art industrial areas in Una, Solan and Kangra districts. Besides, a fresh survey would be done to include more districts for developing them as industrial areas in the state. He said that a mechanism had been developed for granting clearances to industrial projects in a time-bound manner within 90 days of receiving the application. State government has also strongly taken up the matter with the Union Government for restoring the special industrial package to the State till 2020, he said.
Singh said that the State government had given special attention for repair and maintenance of roads and an amount of Rs 2291 crore would be spent during the current financial year for the expansion and strengthening of road infrastructure in the State. As many as 475 km motorable roads and 35 bridges would be constructed and 80 villages would be provided road connectivity during the current financial year.
Virbhadra Singh said that he had a long association with Mandi district and government was according special priority for developmental activities in the district. He said that IIT Mandi and ESI Medial College Mandi had been set up by the efforts of Congress government. The IIT classes in Kamand had been started and work on various buildings was in progress. He said that the work on ESIC Medical College in Ner Chowk was in last phase and all out efforts would be made to start the classes from next academic year.
Chief Minister said that previous BJP Government had tried their level best to realize their dream of mission repeat by abusing their power and government machinery, but the people of the state rejected them completely. He said that though the Congress got less time for election campaign, but due to the whole hearted support of people of the state, the Congress Government came to the power, for which he is indebted to them. He also thanked the people of Mandi Parliamentary Constituency for ensuring victory of Congress candidate by a huge margin in recent by-poll.
He said that Rs 23.39 crore were being spent on drinking water and Rs 1379 lakh on irrigation schemes in Mandi district. He said that a provision of Rs 67.15 crore had been made for construction and maintenance of roads and 1296 houses would be constructed under Indira Awas Yojana and Rajiv Awas Yojana in the district during current financial year.
Colourful cultural programme depicting rich cultural heritage of the State was also presented on the occasion by the various cultural troupes of the State. People present on this occasion took keen interest in it and enjoyed the folk songs and dances.
CM confers Awards:
Chief Minister also awarded persons, who had excelled in the field of development, social work and sports activities.
Hari Chand, Chairman Zila Parishad Kullu was awarded an amount of Rs. One lacs for getting first position in rural development in the country during last two years.
Karma Dawa, Ashwani Kumar, Khimi Ram, Rajat, Ajay Sohal, Head Constable Pardeep Kumar, Head Constable Virender Singh of ITBP were awarded cash prize of Rs. 50,000 each for climbing Mount Everest Peak during May, 2013.
Jagdish, Special Child of Sahyog School, Nagchalla, Mandi was awarded of Rs. 25,000/- for getting Bronze Medal in Snow Boarding Championship in World Winter Games 2013 organized at Pveong Chang, Korea.
Beside, 13 members of Rescue Team were also awarded who had saved the lives of about 30 passengers in a Bus accident near Jhiri, of Mandi District in the month of May 2013.
Health Minister Kaul Singh Thakur, Exise & Taxation Minister Parkash Chaudhary, Rural Development and Panchayati Raj Minister Anil Sharma, Chief Parliamentary Secretary Sohan Lal Thakur, Former Minister Rangila Ram Rao, Former Chief Parliamentary Secretary Tek Chand Dogra, OSD to Chief Minister Amitpal Singh, Additional Advocate General Tarun Pathak, Chairperson Nagar Parishad Mandi Sushila Sonkhla, Chairman APMC Mandi Harinder Sen, Chairman Kangra Central Co-operative Bank Jagdish Sipahiya, Member Executive Council HP University Chander Shekhar, Chief Secretary S. Roy, DGP Sanjay Kumar, Advisor to Chief Minister T.G. Negi, Principal Secretary to Chief Minister V.C. Pharka, Divisional Commissioner Mandi Onkar Sharma, IG Central Zone P.L. Thakur, Additional Deputy Commissioner Mandi Gopal Chand, Superintendent of Police Mandi R.S. Negi, freedom fighters, prominent persons and other senior Officers of State government and District Administration were also present on the occasion along with large number of local people.