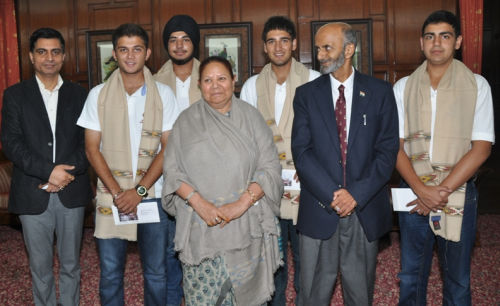 A team of four students of Lawrence School Sanawar who conquered Mount Everest recently called on Governor Urmila Singh at her official residence. They were accompanied by their parents and Headmaster Praveen Vasisht.
Urmila Singh congratulated the Sanawar Everest Team for its adventurous expedition and bringing laurels to the school and state as well. She said that such expeditions go a long way in building confidence among youth besides ensuring their personality development. She appreciated the task undertaken by the students and hoped for more achievements in future.
Governor also honoured the Sanawar Everest team and awarded them appreciation letters on the occasion.
Praveen Vasisht informed the Governor that Lawrence School Sanawar was the first school in the world to sponsor students for Mount Everest expedition and added that the team consisted of youngest members in Asia, who ever scaled the heights of Mount Everest and it was a record in itself.
The students who were part of the Sanawar Everest Team, Prithviraj Singh Chahal, Ajay Sohal, Hakikat S Grewal, and Fateh S Brar apprised the Governor about the arduous journey and their experiences while undertaking the challenging task. They conquered Mount Everest on 21st May, 2013.