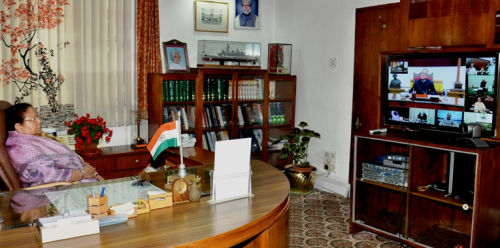 The President of India Pranab Mukherjee addressed all the Governors and Lt. Governors of States and Union Territories through Digital Video Conference on completion of one year in his office at Rashtrapati Bhawan.
Himachal Pradesh Governor Urmila Singh also participated in this digital conference, first of its kind, at Rajbhawan.
Singh lauded the initiative of connecting the Rajbhawans and Rashtrapati Bhawan through video conference facility as it would enable the Governors to take up issues with the President which need immediate attention and receive his guidance accordingly. She said that it would contribute towards enhancing the efficiency of office by enabling prompt communication. This facility could be very useful during emergent situations like natural disasters etc, she added.
She said that she had been taking up the issues of the state at highest level during Governor's conference every year, however now it would be more convenient to do the same with facility of video conferencing in her office. She hoped for more purposeful interactions and guidance from the President in future.

Anita Tegta, Secretary to Governor, officers of NIC and Rajbhawan were present at the occasion.