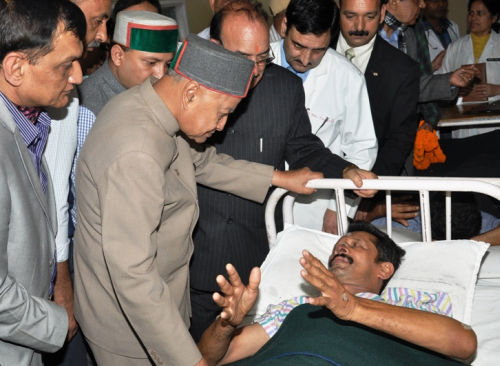 Chief Minister Virbhadra Singh visited the Chopal bus accident injured persons in IGMC and inquired about their well-being. He wished them a speedy recovery and also directed the IGMC Authorities to provide best possible medical treatment free of cost to all the injured.
He said that Community Health Centre at Chopal and Nerwa would be upgraded to 50 bedded hospitals from 30 bedded and vacant posts of Doctors in both hospitals would be filled on priority. He also directed the Health Secretary to prepare proposal for the extension of both these Hospitals.
Earlier, a deputation of Chopal area also met Chief Minister under the Chairmanship of MLA Chopal Balbir Singh Verma and demanded to upgrade hospitals and fill vacant posts in hospitals. Balbir Verma also apprised Chief Minister about the dilapidated conditions of all connected roads and demanded adequate funds for their repair. He also apprised CM that most of roads were narrow and immediately needed parafits alongside.