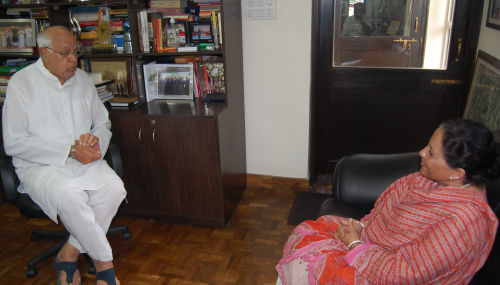 Member of Parliament Pratibha Singh called on Farooq Abdullah, Union Minister for New & Renewable Energy, in New Delhi and requested him to sanction funds for Photovoltaic Solar Power Plants for the State Government Secretariat building, Shimla and famous Ridge Maidan to promote clean energy in the State Capital.
Pratibha Singh said that the State Government was focusing on Green Sources of energy and has sent proposals for meeting the power requirements from solar energy which is regarded as the most non-polluting source of energy.
Member of Parliament informed that the State Government agency HIMURJA, which is promoting the use of non-conventional energy, has sent a proposal for installing 100 Kwp Photovoltaic Power Plant at the State Government Secretariat, Shimla and 20 Kwp capacity Photovoltaic Solar Plant for Ridge Maidan, Shimla. She said him that Detailed Project Reports (DPRs) of both of the solar plants have been sent to Ministry of New and Renewable Energy and requested him to sanction adequate funds for commissioning the plants.
Pratibha Singh said that 100 kw solar plant would be directly connected to the main secretariat grid to provide its power needs from solar energy which would also help the Government to save electricity bill. She told that entire lighting system of Ridge Maidan would also be connected with solar plant. Once installed and proven efficient, the Government would explore possibilities of adding such more non-polluting plants at HIPA, Mashobra and Panchayat Bhawan Shimla for which DPRs of 100 kwp and 15kwp have already been prepared under Shimla Solar City Programme.
Pratibha Singh also urged for sanction of funds for 150 kwp Solar Power Plant at Pin Valley Kaza and 500 kwp Solar Power Plant for REE village in Bilaspur. She demanded 2000 SPV Home Lighting System for slum areas in Shimla and 5000 SPV lanterns for beneficiaries in Shimla town.
She requested the Union Minister to sanction 20,000 SPV Lanterns and 20,000 SPV home lights for flood affected areas of Kinnaur on the pattern of Uttrakhand and told that electricity has not been restored completely in many villages due to recent flash floods and added that the areas experiences heavy snowfall in winters which leads to disruption in power supply time and again in entire area and requested to provide solar power systems to provide regular clean energy in entire tribal areas. She also demanded 5000 SPV Home Lighting System for remote and backward areas like Dodra Kwar where transmission lines were snapped in winters during heavy snow fall.
She told that HIMURJA has prepared a master plan for implementation of the Union Government-sponsored Solar City Project, for which the MNRE had selected the Shimla among 50 cities across the country. Under the project, the Union Government will provide 90% subsidy on renewable energy projects while 10% is to be borne by the concerned beneficiaries to reduce at least 10% of the projected demand of conventional energy through renewable energy. Through an awareness campaign, the project would promote solar devices such as photovoltaic systems, solar water heating, cooking, steam generating and air-conditioning systems, she added.