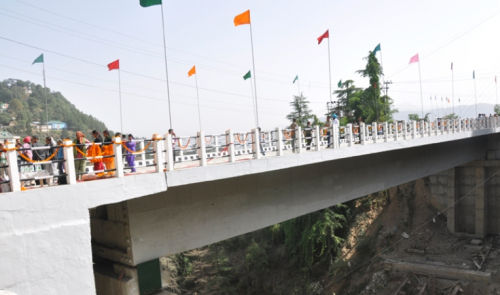 After about six years of delay, finally bridge near Auckland tunnel (below IGMC) in Shimla opened for the traffic today. Chief Minister Virbhadra Singh inaugurated it. This bridge constructed at a cost of Rs. 2.52 crore under Jawaharlal Nehru National Urban Renewal Mission (JNNURM).
Chief Minister, on the occasion, said that the foundation stone of this bridge was laid by him during previous regime of Congress in March, 2007 but the BJP Government, who remained in power from 2008 onwards, completely ignored the same and failed to complete it in stipulated time. With the construction of this bridge, the flow of traffic would be eased besides facilitating the pedestrians as separate pedestrian path had also been constructed along-side.
He said that more than Rs. 10 crore had been spent on construction of tunnel beneath Auckland house school and bridge under JNNURM resulting in shortening the distance by around one and a half kilometre between Lakkar Bazar to Sanjauli.
Virbhadra Singh disclosed that a additional complex of IGMC would be constructed from Cart Road, near the old bridge on Snowdown Nullah upto the main building of IGMC having facilities of OPD, diagnosis and doctor's rooms with lift facility to facilitate patients and others visiting IGMC every day.
Urban Development Minister Sudhir Sharma, Chairman, Zila Parishad Chandreshwar Prasad, Former Mayor Sohan Lal, former Deputy Mayor Harish Janaratha, Councillors of Municipal Corporation, Shimla, Advisor to Chief Minister T.G Negi, Additional Chief Secretary P. Mitra, Deputy Commissioner Dinesh Malhotra, Engineer in Chief, PWD, Pradeep Chauhan, Commissioner, MC, Shimla, Amarjeet Singh and other prominent persons were also present on the occasion.