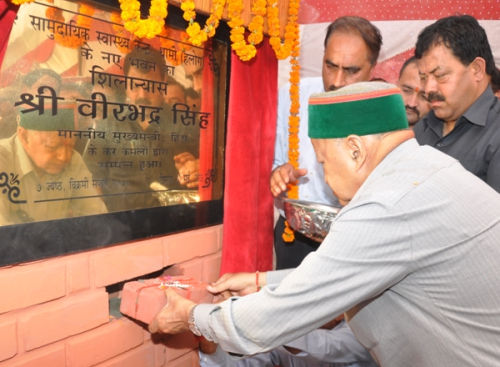 Chief Minister Virbhadra Singh while addressing a public meeting at Sharda in Shimla Rural Assembly Constituency after inaugurating the Government High School building of Sharda, constructed at a cost of Rs. 44 lakh, said that present State Government had taken various important decisions during past five months to accelerate the pace of development in the State with special focus on the schemes benefiting the poor.
Chief Minister said that Shimla Rural Assembly Constituency though near to State capital had remained neglected during BJP regime. He said that efforts would be made to make it the most developed constituency of the State in the next five years, providing better road facility and other basic amenities.
He announced to upgrade Sharda High School to Senior Secondary School with Science and Commerce streams. He also announced re-construction of Primary School building and opening of Primary Health Centre at Banuti. He announced Rs. one lakh for construction of crematorium at Janol. He also announced Rs. 10,000 to the students of Sharda School who presented cultural programme on the occasion.
Chairman, Block Rural Shimla Congress Committee Chander Shekhar Sharma urged the Chief Minister for filling up of posts of doctors and paramedical staff.
Pradhan Gram Panchayat Dudhalti Sunita Thakur welcomed the Chief Minister while District Congress General Secretary Shri Rajesh Sharma raised the demands of the area. BDC Member Neri-Dudhalti presented vote of thanks. Dina Nath Thakur, a resident of Panti village made a contribution of Rs. 5100 towards Chief Minister Relief Fund on the occasion.
Earlier, Chief Minister addressed a public meeting at Tutu and thanked the people of his home segment for overwhelming support in the assembly elections. He said that the all-round development of the State was ensured whenever Congress Governments remained in power. He expressed gratitude towards Central Congress leadership for providing liberal assistance and support to the State for carrying out developmental activities.
Chief Minister said that the demand for a proper parking slot and vegetable market in Tutu would be considered sympathetically and also assured to start HRTC bus service to Jatog area on the demand of the local people.
In-charge Tutu Zone of Shimla Rural Block Congress Committee Uttam Singh Kashyap and former MLA Chiranjilal Kashyap welcomed the Chief Minister while President, Tutu Congress Coordination Committee Krishan Chand Sharma presented the demand charter. Vice President of the Committee Mast Ram Sharma proposed vote of thanks.
Former MLAs Sohan Lal, Chairman, Zila Parishad Chandreshwar Prasad, Director, BoD, SIDC, Pramod Sharma, Advisor to Chief Minister T.G Negi and other prominent persons were present on the occasion.