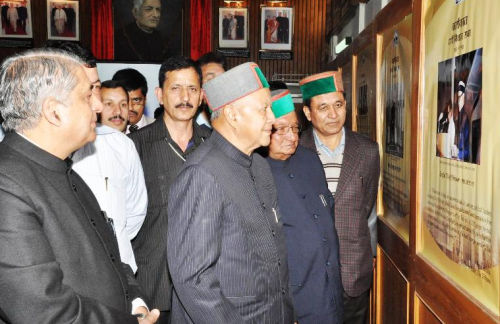 The Planning Commission has approved Himachal Pradesh's Rs 4,100 crore annual Plan expenditure for the current fiscal, which is 400 crore higher than the outlay for 2012-13. The state's approved Plan outlay for the previous fiscal year was Rs 3,700-cr.
The state's annual Plan outlay of Rs 4,100 crore was approved here after a meeting between Commission's Deputy Chairman Montek Singh Ahluwalia and Himachal Pradesh Chief Minister Virbhadra Singh at Yojna Bhawan.
During the meeting, Ahluwalia said the Gross State Domestic Product (GSDP) growth rate of Himachal Pradesh during 11th Plan was 8.1 per cent which is almost equal to national average of 8 per cent.
Chief Minister Virbhadra Singh said that at this level, the Plan size for the new fiscal year is almost 11 percent higher than the Rs. 3700 crore plan outlay for 2012-13.
He said that Social Sector, Transport and Communication and Energy sector has been given 1st, 2nd and 3rd priorities by allocating 1371.40 crore(33.45%), Rs 865.14 crore(21.10%) and Rs624.68 crore (15.24%) of the total plan outlay .
Chief Minister Virbhadra Singh said that economy growth rate for 12th plan period has been fixed at 9%. He said that an plan outlay of Rs 1013.52 crore has been allocated to Scheduled Caste Sub Plan for implementing various schemes for upliftment of Scheduled Caste population.He said that Rs 369 crore (9%) of the outlay has been earmarked for Tribal Area Sub Plan and Rs 37 crore has been allocated for various development projects in declared backward areas. He said that sector wise Agriculture and allied activities, Irrigation and flood control, Energy, Transport and communications and social services have been allocated Rs 530.84 crore, 301.14 crore,624.68 crore,,865.14 crore and 1371.40 crore Rs respectively.
Chief Minister Virbhadra Singh revealed that additional 5009 MW hydel energy will be generated in the state during 12th five year plan out of which a target of 1918 MW hydel energy generation has been fixed for annual plan 2013-14.He stressed the need for low cost open access and grid connectivity in entire country to evacuate surplus power for energy consumers at various parts of the country at proper price.
He told that project cost of Mid Himalayan Watershed Project has been revised to Rs 596.25 crore from initial cost of Rs 365 crore and told now 704 gram panchayats in 44 blocks and 10 districts of the state will be covered with 272 micro water shed project to reverse the process of degradation of natural resource base and improve productive potential of natural resources and income of rural household in the state. He said that an outlay of Rs 35.00 crore has been approved for the year 2013-14 for Swan River Integrated Watershed Management Project launched in Una District to regenerate the forests to protect agriculture land and enhance agriculture and forestry production in catchments areas and told that project cost has been revised to Rs 215 crore from original cost of Rs 160 crore along with the extension of terminating date of project up to March 2015.
Chief Minister told that Rs 428.22 crore cost ADB assisted infrastructure development investment programme has been started in the state to improve basic tourist facilities such as information centre, waste management, camping site, parking toilets, landscaping, road improvement, beatification and development of tourist places in the project area to increase the flow of religious, domestic and international tourists in the state. He said that house boats will be introduced in vast reservoirs created in hydel projects in the state. He said that majority of visiting 150 lakh tourists prefer popular tourist destinations in the state and told that state Govt is working towards diverting the tourists to new explored areas for which various schemes like home stay schemes has been started.
He also asked the union Govt to start air services to all the three airports i.e shimla, Kangra and Kullu airports to boost the high end tourism in coming summer tourism season of the state. He further requested for declaring the Bilaspur–Leh via Manali railway line as project of national importance keeping in view of its strategic importance and told that only 44 Kms railway line has been added in the state since independence and entire burden of goods and passenger traffic is borne by the road transport. He also asked for survey of Baddi–Chandigarh rail line due to its economic considerations keeping in view of large industrial units in Baddi areas.
Chief Minister Virbhadra Singh pleaded for relaxation of ratio of 60:40 to 50:50 between labour and capital components for execution of works under MNREGS and also requested for enhancement of wages from existing Rs 138 to Rs 150 per day. He also requested for restoration of industrial package to the state to speed up industrialization in the state. He thanked the union Govt for providing additional central assistance of Rs 62 crore on accounts of arrears on Shah Nahar Project and requested for immediate release of the central assistance. He demanded revision in cost norms and time period for completion of schemes under AIBP programme for hilly states keeping in view of tough geographical conditions and limited working season.
During the meeting, Chief Minister Virbhadra Singh also requested implementation of recommendation made by working group on minor irrigation for revision of cost norm or Rs 3.5 lakh per hectare for surface minor irrigation schemes. He also requested for uniform funding pattern of 90;10 for all special category states under centrally sponsored schemes and told that state should be treated at par with other north east states keeping in view of its similar geographical, topographical and hilly terrain.