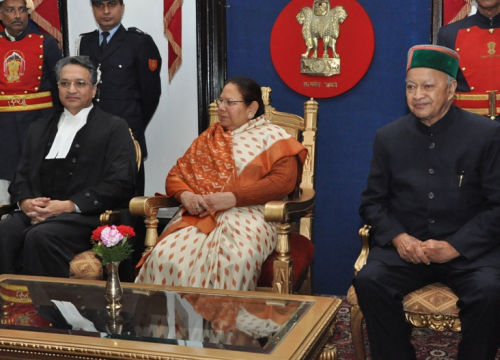 Justice Ajay Manikrao Khanwilkar was sworn in as 21st Chief Justice of H.P. High Court here today. Governor Urmila Singh administered the oath of office and secrecy to the Chief Justice at Raj Bhawan here today. Chief Minister Virbhadra Singh was present on the occasion.
Justice Ajay Manikrao Khanwilkar hails from Pune in Maharashtra. He was appointed Additional Judge of Bombay High Court in March 2000 and confirmed as Permanent Judge in April 2002. He has been in legal profession for the last 31 years. He did his degree in Commerce from Mulund College of Commerce, Mumbai University and degree in law from KC Law College, Mumbai University. He enrolled as an Advocate in the year 1982 and handled Civil, Criminal and Constitutional matters before the Subordinate Courts, Tribunals and High Court of Judicature at Bombay on the Appellate Side as well as the Original Side. Then he started practice exclusively in the Supreme Court of India from the year 1984.
S. Roy, Chief Secretary conducted the proceedings of the ceremony. B.B.L Butail, Speaker H.P. Vidhan Sabha, Vidya Stokes, Kaul Singh Thakur, G.S. Bali, Thakur Singh Bharmouri, Mukesh Agnihotri, Sudhir Sharma, Prakash Chaudhary, Dhani Ram Shandil and Anil Sharma, Cabinet Ministers, Prem Kumar Dhumal, Leader of Opposition, Jagat Singh Negi, Deputy Speaker, H.P. Vidhan Sabha, Chief Parliamentary Secretaries, MLAs, Chairmen and Vice Chairmen of various Boards and Corporations, Sanjay Chauhan, Mayor, Tikendar Panwar, Deputy Mayor, Former MLAs, Former Ministers, Judges of H.P. High Court, L.S. Panta, Lokayukta, Shrawan Dogra, Advocate General, Himachal Pradesh High Court, Bhim Sen, State Information Commissioner, Maj. General (Retd ) C.M. Sharma, Chairman H.P. Public Service Commission, A.D.N Bajpayee, Vice Chancellor HPU, T.G. Negi, Advisor to Chief Minister, Subhash Ahluwalia, Principal Private Secretary to Chief Minister, Additional Chief Secretaries, Principal Secretaries, Secretaries, Head of Departments, Legal Luminaries, Senior officers of State Government were also present on the occasion among others.