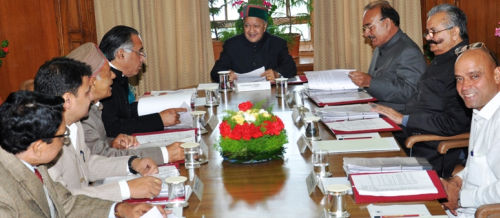 The H.P. Cabinet, which met under the Chairmanship of Chief Minister Virbhadra Singh, enhanced the grant for inter-caste marriages from Rs. 25,000 to Rs.50,000, which was announced by the Chief Minister in his budget speech.
Cabinet also approved H.P. Land Revenue (Amendment) Act, 2013. As per the amendment, earlier provisions of sections 34 and 35 have been restored, which were in existence before the Act No. 41 of 2011. It will empower the Revenue Officers to attest the mutations during field visits only and the interested parties will get an opportunity of being heard.
Cabinet decided to establish 10 Regional Transport Authorities (RTAs) at District Headquarters of the State except in Kinnaur and lahaul-Spiti districts. At present, three RTA's are working in the State at Shimla, Mandi and Dharamshala. The decision has been taken to facilitate the private passenger vehicles and bus operators in getting route permit, time-table and vehicle fitness related works done. Lahaul Spiti will be attached with RTA Office, Kullu while Kinnaur with RTA Office, Shimla.
It also gave approval for enhancement of War Jagirs from Rs. 2000 to Rs. 3000 per month by amending War Awards Act, 1972. This decision also comes in fulfillment of the announcement of Chief Minister in budget speech. It approved for enhancing the annual income limit for appointment of Anganwari Workers/Helpers/Mini Anganwari Workers from Rs. 15,000 to Rs. 20,000.
HP cabinet also has given nod to convert Part Time Water Workers who have completed nine years of continuous service, into Daily Wagers. It decided to re-bid the Jangi-Thopan and Thopan-Powari Projects as a single project Jangi-Thopan-Powari of 960 MW capacity. This hydro electric project will be re-bid as per the new hydro policy. Cabinet also decided to reject the representation made by Ms. Brakel Corporation NV and Ms. Reliance Infrastructure.
Cabinet gave approval for enhancing the fixed medical allowance of employees and pensioners from Rs. 250 to Rs. 350 per month with effect from 1st April, 2013. Approval was given to enhance Cash Credit Limit of Himachal Road Transport Corporation from Rs. 30 crores to Rs. 50 crores.
Cabinet gave its nod to bring Shree Dron Mahashiv Temple, Shivbari (Ambota) of Tehsil Amb in Una district under government control under H.P. Hindu Public Religious Institutions and Charitable Endowments Act, 1984.
Cabinet approved notifying the State Council of Educational Research and Training (SCERT) as State Academic Authority instead of Academy Authority under the Right of Children to Free and Compulsory Education Act, 2009.
The Cabinet accorded approval to policy for joining of a fresh appointee teacher. According to this policy, if a fresh appointee teacher is posted in rural/hard/tribal area, his posting orders will not be modified to general area. In case the teacher fails to join the place of posting, he/she shall not be considered for appointment for a period of one year.
The cabinet gave its nod for setting up Himachal Pradesh Commission for Protection of Child Right (SCPCR) with headquarters at Shimla with one Chairperson and six other members.
It granted approval for providing amended No-Objection Certificate to the BAMS College being run by Abhilashi Education Society, Ner-Chowk, in Mandi district for enhancing the number of seats from 50 to 60 for running BAMS course. Cabinet also decided to rename Government B. Pharmacy College, Rohru in district Shimla as Government College of Pharmacy, Rohru, District Shimla. Now, this college will be a constituent college of H.P. Technical University, Hamirpur.
Decision was taken to grant one special opportunity for typing test at a low speed to the candidates who passed written test in second phase but failed to qualify typing test under Limited Direct Recruitment (LDR) Policy.
Cabinet has also given its approval for filling up of four posts of Assistant Public Relations Officers and two posts of Sub-Editors, Class-II (Non-Gazetted), and three posts of Steno-Typists Class-III (Non-Gazetted) on contract basis in the Information and Public Relations Department. It also approved filling up of one post of Manager (IT) and one post of Deputy Manager (IT) in Department of Information Technology on contract basis by way of direct recruitment through H.P. Public Service Commission.
Cabinet accorded approval for abolishing the three posts of Additional Registrar/Joint Controller/Registrar and creation of two posts of Under Secretaries, Class-I (Gazetted) in the H.P. Public Service Commission. Cabinet also approved creation of one post of Officer on Special Duty to the Chief Minister on co-terminus basis.
The H.P. Cabinet approved to introduce revised Centrally Sponsored Scheme of Vocationalization of Higher Secondary Education operated with in the National Vocational Education Qualifications Framework (NVEQF).
The decision has been taken in fulfillment of the announcement of Chief Minister in his budget speech to start vocational education in 100 new Senior Secondary Schools with four courses in Automobile, Retail, Security and IT with a view to improve the employability of students from 9th to 12th class under NVEQF scheme during 2013-14.
These courses will be industry driven based upon National Occupational Standards (NOS) set by Sector Skill Councils (SSCs) in association with National Skill Development Corporation (NSDC). This scheme will also help in reduction in school dropout rates and better attendance levels due to better job prospects. Government of India has sanctioned a proposal to the tune of Rs. 4463 lakhs for the State to introduce these vocational courses in four trades whereas State share will be Rs. 562 lakhs.