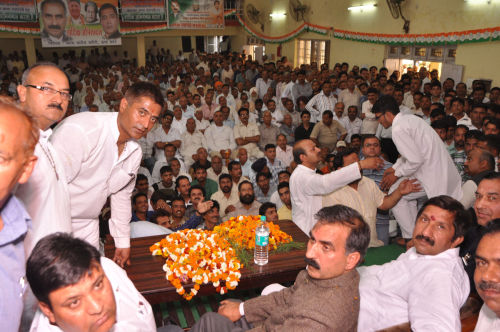 Himachal Pradesh Congress Committee (HPCC) president Thakur Sukhvinder Singh (Sukhu) hinted to field Lok Sabha candidate for the Hamirpur parliamentary from Una district. He was speaking at the party worker meeting at Una, which was attended by thousands of party workers.
During the assembly poll, Congress had won three out of five seats from the district and it seems that Congress president is mulling to cash the popularity in the region to wrest the seat from the BJP. Congress has lost Hamirpur parliamentary seat for record six times in a trot. In the last two elections Congress has fielded Narinder Thakur, son of BJP founder in Himachal, Jagdev Thakur in the fray, but he too lost election with considerable margin to BJP candidate Anurag Thakur.
In his address, Congress president targeted at MP Anurag Thakur and blamed him for ignoring the region. He said that Anurag has nothing to do with the development, he more in Dubai and Mumbai than in Hamirpur. He claimed that people would give a befitting reply to him in coming election. Sukhu accused former CM and now leader of opposition Prem Kumar Dhumal, his MP son Anurag Thakur and former health minister Rajiv Bindal for doing politics for strengthening their business. He accused them for doing politics for business.
In this meeting Congress Gagret legislators Rakesh Kalia and Chintpurni legislators Kuldeep Kumar accused few party leaders for working against them in the assembly election. They charged that despite their complaint to party high-command, party has not taken any action against them.
Sukhu ensured these leaders and stated that the HPCC had received 270 complaints from Una district alone and added that party would inquire into it and would take befitting action against them.
In the meeting, industries Minister Mukesh Agnihotri tries to stay away from the criticising any Congress workers, he chosen to inform party workers about various development activities being carried out in Una district. He said that Congress party led present government would give preference to the entire district in terms of development.