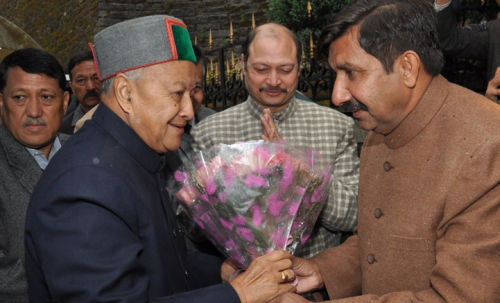 Industries, Labour and Employment and Public Relations Minister Mukesh Agnihotri has termed the State Budget for the year 2013-14 presented by Chief Minister Virbhadra Singh as a 'common man's budget aimed at ensuring faster, sustainable and more inclusive growth. He said that the budget has envisioned an industrially developed Himachal Pradesh in the coming years.
Industries Minister thanked the Chief Minister for announcing several benefits to the Construction Workers of the State. He said that increase in medical reimbursement of Construction Workers from Rs 1000 to Rs 5000 per annum and educational assistance for their two children from Rs10000 to Rs 15000 would provide them much needed help. He lauded the decision to enhance the financial assistance to the legal heir of worker in the event of death from Rs 50000 to Rs 1 lakh. He also appreciated the decision to grant an assistance of Rs 21000 for marriage of children of the building and construction workers. He said that over 93 per cent workers were employed in the unorganized Sector and this decision would not only help their children in getting better education but also provide a helping hand in case of death of the bread earner.
Agnihotri lauded the decision to establish a State Skill Development Council in the State. He also hailed the decision to provide 'Skill Development Allowance" of Rs 1000 per month to 10+2 and above educated unemployed youth. This rate will be Rs 1500 per month for persons with disabilities.
Industry Minister hailed the commitment reflected in the Budget for the time-bound clearances to the various industrial projects. He said that for this, the clearances by State Level Single Window Clearances and Monitoring Authority would now be given within a period of 90 days of receiving the application. He said this would help in encouraging the entrepreneurs to invest in the State, which in turn would result in greater economic activities and employment avenues to the youth of the State.
Industries Minister also lauded the announcement for setting up of three new industrial areas in the State. He said that these industrial areas would be developed in Una, Solan and Kangra district. He said that this would help in ensuring uniform of industrialization in the State.
While hailing the decision of the Chief Minister to set up a Tool Room-cum-Training Centre at Baddi, Agnihotri said that this would provide tooling facilities to the industry and also help in skill development of unemployed youth of the State. He also thanked the Chief Minister for announcing concessional CST @ 1% for all those new industrial units set up in the State after 1st April, 2013 and those carrying out substantial expansion. He said that these major decisions would go a long way in giving boost to industrialization in the State.