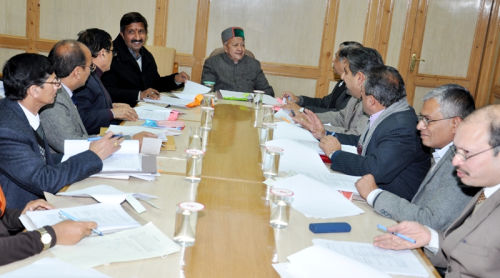 The State Level Singly Window Clearance and Monitoring Authority (SLSWC&MA) meeting was held here today under the Chairmanship of Chief Minister Virbhadra Singh. In the meeting Monitoring Authority gave approval to twenty-three industrial units with proposed investment of Rs. 168.95 crores which would provide employment opportunities to 922 persons. It includes five new proposals and eighteen expansion proposals of existing units.
The new proposals approved by the Authority include M/S AB Refer Warehousing Pvt. Ltd. for setting up of C.A. Cold Store (Integrated with refrigerated Vans) at Baddi. It proposes investment of Rs. 35.96 crore with employment potential to 46 persons. The proposal for M/S R.A. Shakti Bhog proposal of investment Rs. 1.2 crore with employment potential to 34 persons for manufacturing of Flour Wheat, Maida, Suzi etc. at Nalagarh was also approved. The other new proposals of M/S Food Industries, M/S Himalaya Ever Green Industry and M/S Paradise Paints India with an investment of Rs. 35.63 lakh with proposed employment to 22 persons were also cleared in the meeting.
Among the expansion proposals are M/S Kansal Building Solutions Pvt. Ltd. with proposed investment Rs. 14.64 crores and employment potential to 28 persons for the manufacture of Autoclaved Cellular Concrete Blocks at Paonta Sahib, M/S Purogenic Fruit Juices Pvt. Ltd. which has proposed to invest Rs. 8.46 crores with employment potential to 20 persons for manufacturing of Fruit Juice, M/S Siddartha Super Spinning Mills Ltd. with proposal to invest Rs. 14.46 crores with employment potential to 100 persons for manufacturing of Synthetic Yarn, M/S Sheela Foam (P) Ltd., who has proposed to invest Rs. 18.08 crores with employment potential to 143 persons for manufacturing of Comfort Products at Kala Amb, M/S Greenply Industries Ltd., who has proposed to invest Rs. 10.90 crores with employment potential to 131 persons for the manufacture of Laminate Sheet at Nalagarh and M/S Amico Textiles who has proposed to invest Rs. 13.36 crores with employment potential to 25 persons for the manufacture of all type of yarn and fabric and Polyster staple fibre at Nalagarh.
Virbhadra Singh said that State should get its due share of 7.19 percent in all the other hydel power projects like BBMB and 8 percent free power from all the hydel projects in the State. He said that as all the above industrial units were cleared by the Single Window Authority, the concerned departments should expedite the other works at their on level so that units could start commence production. He said that the progress made in this direction would be reviewed in the next meeting.
Industries Minister Mukesh Angihotri briefed the Chief Minister about the industrial growth in the State along-with progress made in the matter of revival of Industrial Package to the State till 2020 as discussed with Union Industries and Commerce Minister, Anand Sharma. He said that after the announcement of Special Industrial Package for the State in the year 2003 Industries worth investment of Rs. 48,000 crores were cleared by SLSWC. Out of this only 35,000 crore were invested which indicate some flaw in the system which needs correction.
He said that in the same period, 200 times more industrial investment was made in Uttarakhand. He said that in order to attract more industrial investment, procedures should be simplified and consistent efforts should be made to attract big industrial houses.
Mohan Chauhan, Director, Industries said that 39086 industrial units were registered till December, 2012 in the State with an investment of Rs.16588.56 crore and employment to 2,70,306 persons. S. Roy, Chief Secretary, P. Mitra, Additional Chief Secretary Revenue, Dr. P.C. Kapoor, Additional Chief Secretary, Industries and Labour & Employment, V.C. Pharka, Principal Secretary to Chief Minister, Dr. Bharti S. Sihag, Principal Secretary, Forests, S.K.B.S. Negi, Principal Secretary MPP & Power, Dr. Shri Kant Baldi, Principal Secretary, Finance, R.D. Dhiman, Chairman HPSEB Ltd. and other senior officers were present in the meeting.