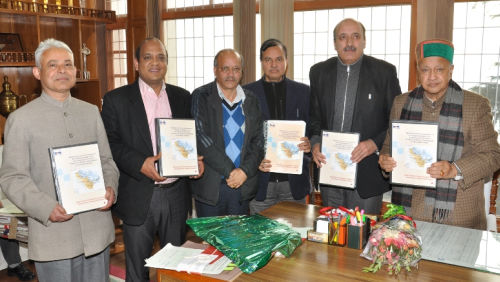 Shimla: Chief Minister Virbhadra Singh said that efficient management of disasters, rather than mere response to their occurrence, had received increased attention in recent times. He said that more fire stations should be opened in the State under the Disaster Management Fund.
Chief Minister was speaking after releasing a survey on Assessment of Existing Knowledge Level, Awareness and Preventive Practices of Disaster Management in Himachal Pradesh, here, today. This is the first survey in its kind in the country done by Economic & Statistics department in collaboration with the Disaster Management Authority of Himachal Pradesh.
Virbhadra Singh said that more fire fighting equipments should be procured at district and sub-division level to mitigate the disasters. He said that construction activities should be carried in a scientific and planned manner in the State as Himachal Pradesh comes under 4-5 level of seismic zone.
V.C Pharka, Principal Secretary to the Chief Minister, said on the occasion that State government would consider the recommendations of the survey report and a separate meeting would be held with the Revenue department to discuss the matter in detail for disaster preparedness.
Pradeep Chauhan, Economic Adviser, said that the opinions and observations of all stakeholders will play an important part in handling pre and post disaster both natural and manmade.
As per the survey, out of total respondents 98.01 per cent of the populations were aware of the term disaster, while only 1.98% said that they were not aware of the term disaster. 79 per cent of the general population revealed that disaster management is a topic discussed among the family members. Education has been voted to be the best way to protect from the disaster, as 83 per cent reported that education/training is the best way to protect vulnerable section of the society from natural disasters. Regular conduct of mock drills was ranked 1st, followed by awareness raising and the third spot was for preparation of emergency.