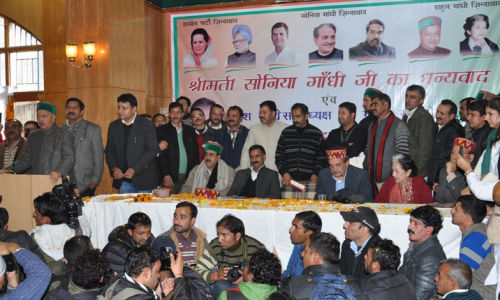 Sukhvinder Singh has taken charge of Himachal Pradesh Congress Committee from Chief Minister Virbhadra Singh today at Rajiv Bhavan Shimla. Chief Minister Virbhadra Singh and most of his cabinet ministers, former ministers, Congress MLA, Ex MLA, key members of other frontal organisation of party and other party office bearer and thousands of party workers and supporters were present at the ceremony. Himachal Party in-charge Chaudhary Birender Singh and Anees Ahmed were also present at the function.
Cabinet Minister for Industry, Labour, Employment, Public Relations and Parliamentary Affairs, Mukesh Agnihotri presided the working of ceremony and congratulates the new HPCC Chief and assured full support to him. All former HPCC presidents Kuldeep Kumar, Viplove Thakur, Kaul Singh Thakur, Vidya Stokes and Virbhadra Singh extended their full support to him.
Party in-charge Chaudhary Birender Singh, while speaking on the occasion claimed that Sukhvinder Singh's huge experience in organisation will help him to deliver best on this post. He cautioned him to choose best possible faces in his team so that system within the party becomes smooth and transparent. He also advised him introduce new faces in the system so that party set-up get good blend of new and old ideas.
Chief Minister Virbhadra Singh also extended full support and corporation to new HPCC chief Sukhvinder Singh. He believes that Sukhvinder Singh will handle party affairs wisely and under his command Congress will register win in forthcoming parliamentary election.
HPCC new Chief Sukhvinder Singh also addresses the supporters and thanked Party Chief Sonia Gandhi for the responsibility. He asked for blessings from Virbhadra Singh and Vidya Stokes and assured party workers for the clean and transparent system within the party fold. He stated that he came from the roots of Congress and knows its functionalities well. He stated that he had hold various important posts in Congress party under various presidents and believes that will help him to deliver best from him.
Prior to this, Sukhvinder Singh had held the position of NSUI presidents and Himachal Youth Congress presidents for longest period. He was also elected as councilor of Shimla MC and later elected legislature from Nadaun assembly segment of Hamirpur District. However, in 2012 assembly election he lost to BJP candidate, party high-command entrusted Sukhvinder Singh with the responsibility of state affair of Congress party.