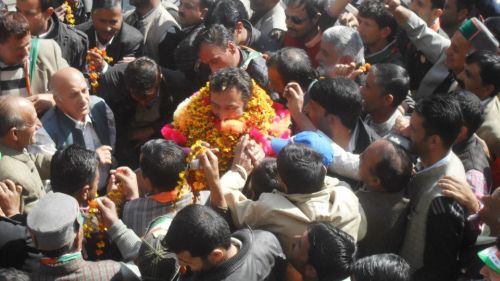 We are nearing the day when Himachali electors will cast their vote to form the Eleventh Assembly. Consequently, with their aim to woo as many voters as possible, political leaders have become the most frequent faces nowadays. We really don't know whether they'll continue to be sociable or will become extinct after the elections. For now, at least, they are the most sociable creatures who will do anything to win your support. Claims, blames and what not, you'll keep more and more of them in the upcoming days.
Earlier, we let you know about some facts about the dilapidated road conditions in Jubbal-Kotkhai while revealing how the BJP government neglected the region during its 1998-2003 and 2007-2012 tenures. Rohit Thakur, the Congress candidate also emphasized on these facts as he addressed a public rally in Khaneti today. Hundreds of Congress workers, including supporters from Khaneti Shilli and Khaneti Prali panchayats, participated in the rally. Senior leaders from Kotkhai, Jubbal and Nawar were also there to extend their support to Rohit Thakur. Accordingly, Rohit was more than overwhelmed with the public response.
He said that Congress will form its government in the state. Further, he ensured that Congress government will guarantee the development of the region, which was neglected by the current BJP government. While emphasizing on the-worse-for-wear roads in the region, he told that the 50km road from Chailla to Jubbal needs eight hours to reach by car. Accordingly, he promised to make roads drivable in the next five years.