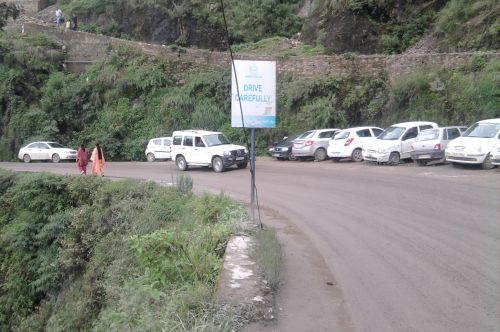 (Manoj Sharma) Two months have passed, since an accident took place not far away (near Dhalli post office) from Dhalli police station. A Maruti 800 car stumbled down approximately 300 meter deep, taking two lives.
The reason behind the accident was supposed to be the negligence during the driving and no parapet across the road. When The News Himachal visited the spot, it found that the car that fell down in the trench, a few days back was still there in a ropey condition and no signs of improvement were seen at the place.
Anoop Malik, who works at a local garage near the spot said, "On the hill side of the road, usually private cars occupied the space and thus left no space for pedestrians, so passerbies have to walk from the other side of the road and that is really dangerous because of the blind curve and no parapet".
Suresh Sharma, a senior citizen, who usually passes through the road said, "It's really a dangerous here, especially for old age people like me. People have parked vehicles on the left side and on the other side; there is no pedestrian way and not even a single parapet for the security."
It's really strange how intransigent we are and a life or two means nothing just an accident to us. People in authority seem deaf and dumb, as it was just only two lives that were lost there and that is a really insignificant number, when it comes to number of accidents in India.
Now imagine if those parapets would have been there. The answer is simple; perhaps the car accident could be saved. The News Himachal urges the authorities concerned to take some authentic steps to provide proper safety for the pedestrians and vehicles at this place.