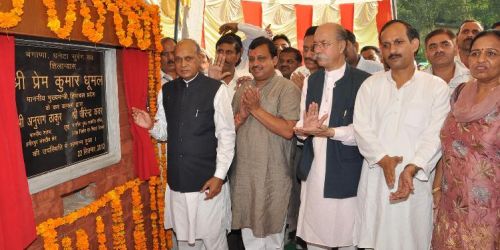 Chief Minister Prem Kumar Dhumal laid foundation stone of 1200 meter long Bangana-Dhaneta tunnel project connecting Una and Hamirpur districts with all weather motorable connectivity. The tunneling project is estimated to cost Rs.145.47 crore and reduce distance between Bangana and Dhaneta by eight kilometers.
Addressing a public meeting at Bangana, Chief Minister congratulated the people of Una and Hamirpur district for the tunnel project which had been a long cherished dream of the people of both the districts. He said that Detailed Project Report (DPR) of three tunneling projects had been prepared which included Holi-Uttrala connecting Bharmour of district Chamba with Baijnath in district Kangra, Bhubu Jot tunnel project connecting Joginder Nagar and Kullu area and third being Bangana-Dhaneta project. He said that work on Bangana-Dhaneta tunnel project would be started on priority for which a provision of Rs.10 crore had already been made. He said that the tunnel was bound to give boost to tourism activities in the area since large number of devotees and tourists had been travelling through district Una and entering other parts of the State. He said that this would not only reduce geographical distances but also strengthen emotional bond.
Virender Kanwar, local MLA and Chief Parliamentary Secretary welcomed the Chief Minister to his home segment and thanked him for laying foundation of long awaited tunneling project. He thanked Chief Minister for opening a college, SDM Office, drinking and irrigation schemes for the segment. He said that world class road was under construction passing through the area. He said that Rs.60 crore were being spent under various road projects in the segment during current financial year. He said that over 70 hand pumps had been bored in the segment. He counted various other developmental activities which had taken place in his home segment during current regime.
Satpal Singh Satti, MLA and President, State BJP, Baldev Sharma, MLA, Balbir Chaudhary, MLA and President, District Una BJP, Parveen Sharma, Vice Chairman, Water Management Board and many other senior officers and leaders of the area were present on the occasion.