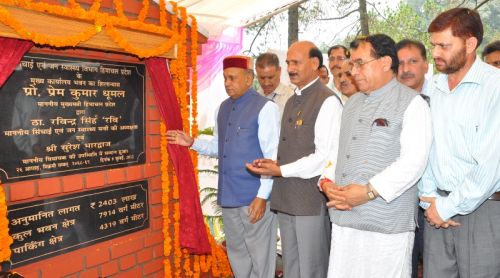 Chief Minister Prem Kumar Dhumal today laid foundation stone of a sprawling complex of Irrigation and Public Health Headquarters on Shimla bye-pass to house different wings of the department under one roof, estimated to cost Rs. 24.03 crore. The office space would be available in 7, 914 square meters area while 4,319 square meter area would be available for parking of about 80 light vehicles.
Speaking on the occasion, Chief Minister said that the activities of Irrigation and Public Health Departments had increased tremendously and its different wings were being strengthened to deliver people quality services by maintaining all drinking water supply and irrigation schemes. He said that the State Government had opened the offices of Chief Engineers at Hamirpur and Superintendent Engineer at Bilaspur with a view to cater to the drinking water and irrigation requirements of the people in those areas. He said that additionally Water Management Board had also been constituted besides Chief Enginer (Project) office at Shimla. He said that a total of 53 additional posts had been sanctioned to make above new offices functional. He said that with the change in climate and global warming, the responsibility of Irrigation and Public Health Department had increased manifold since it was required to maintain regular supply to the consumers in all the villages which had been provided piped drinking water facility. He said that additionally to ensure safe drinking water in drought prone areas where running schemes go dry due to receding of water level in the sources, the Department had been boring hand pumps to fill the gap.
Prof. Dhumal said that demand for water was increasing with the change in life style of people and better economic conditions. He said that the State Government had been endeavoring to ensure adequate regular drinking water supply to the consumers since the State Government was committed to meet basic necessity of drinking water and electricity to every house hold. He said that besides motivating people to save rain water by creating rain water harvesting structures to meet their non-consumption and irrigation etc. requirements, water efficient irrigation schemes were also being constructed. He said that subsidy for sprinkler and drip irrigation scheme was also being made available to farming community under Pandit Deen Dayal Kisaan Baagwan Samridhi Yojna so that optimum use of the available water was ensured. He congratulated the Irrigatioin and Public Health Department for putting in best of their efforts for maintaining regular supply of drinking water during ongoing summer season. He hoped that with the construction of new headquarter at more spacious location proper working environment would be available to all the wings of the Department.
Ravinder Singh Ravi, Irrigation and Public Health Minister, welcomed the Chief Minister and thanked him for providing funds for construction of new headquarter for the Department. He said that the new complex would be eco-friendly state of the art standard where all wings would function under one roof. He said that the building would be having solar passive heating system and all wings to function in a modern corporate style. He said that out of 53,201 habitations 42,476 had been provided piped drinking water facility; 2.51 lakh hectare land brought under irrigation and 18 towns provided sewerage facilities while work on 23 more towns was in progress.
Suresh Bhardwaj, local MLA, Rajesh Sharda, President, BJP Shimla Mandal, Onkar Sharma, Secretary, IPH, R.D. Nazeem, Managing Director, HP State Power Corporation, Dr. Arun Sharma, Deputy Commissioner, Shimla, senior officers of Irrigation and Public Health Department and other prominent people of the town were also present on the occasion.