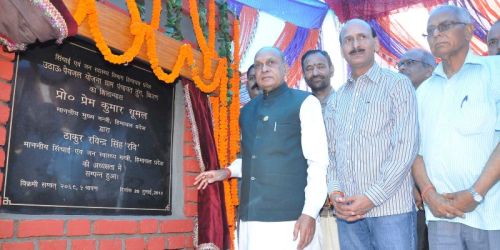 Chief Minister Prem Kumar Dhumal laid foundation stones and dedicated drinking water supplies scheme of Rs. 8.25 crore to the people of Drang and Mandi Sadar Assembly Segments of district Mandi.
Chief Minister laid foundation stone of Lift Water Supply Scheme (LWSS) of left out habitations of 13 villages in Gram Panchayats Katindhi, Traymbli, Tandu estimated cost of Rs. 304 lakh and benefit about 4000 population with 70 litres of safe drinking water per person per day. He also laid foundation stone of LWSS of non covered and partial covered 38 habitations of nine villages of Gram Panchayats Tung, Bijani and adjoining villages at Nasloh in Drang segment of district Mandi. The LWSS is estimated to cost Rs. 267 lakh and benefit population of 6000. He also dedicated LWSS Dudar-Bharon in Gram Panchayat Majhwar completed at a cost of Rs. 253.17 lakh and benefit a population of 8000 of 58 habitations of 16 villages.
Speaking on the occasion, Chief Minister said that State Government had accorded priority to provide safe drinking water to the people in the State by constructing a number of ambitious schemes for them. He said that development of Drang and Mandi Sadar constituencies had been carried by the BJP Government by rising above political considerations. He said that it was due to the present Government that college building of Padhar had been constructed by spending crores of rupees and had been dedicated in a time bound manner to the students to facilitate them to carry their studies in a best academic atmosphere. He said that SDM office at Padhar had also been made functional by the present Government to facilitate people in the segment with various administrative and revenue services at their door steps.
Prof. Dhumal said that State Government would be considering the demand to upgrade various educational institutions in the segment liberally besides providing best facilities.
Ravinder Singh Ravi, Irrigation and Public Health Minister welcomed the Chief Minister and thanked him for dedicating water supply scheme to the people of the area. Satpal Satti, President, State BJP, Dile Ram, MLA, Jawahar Thakur, senior BJP leader, Devesh Kumar, Deputy Commissioner, Abhishek Dullar, S.P. and other prominent people were also present on the occasion.