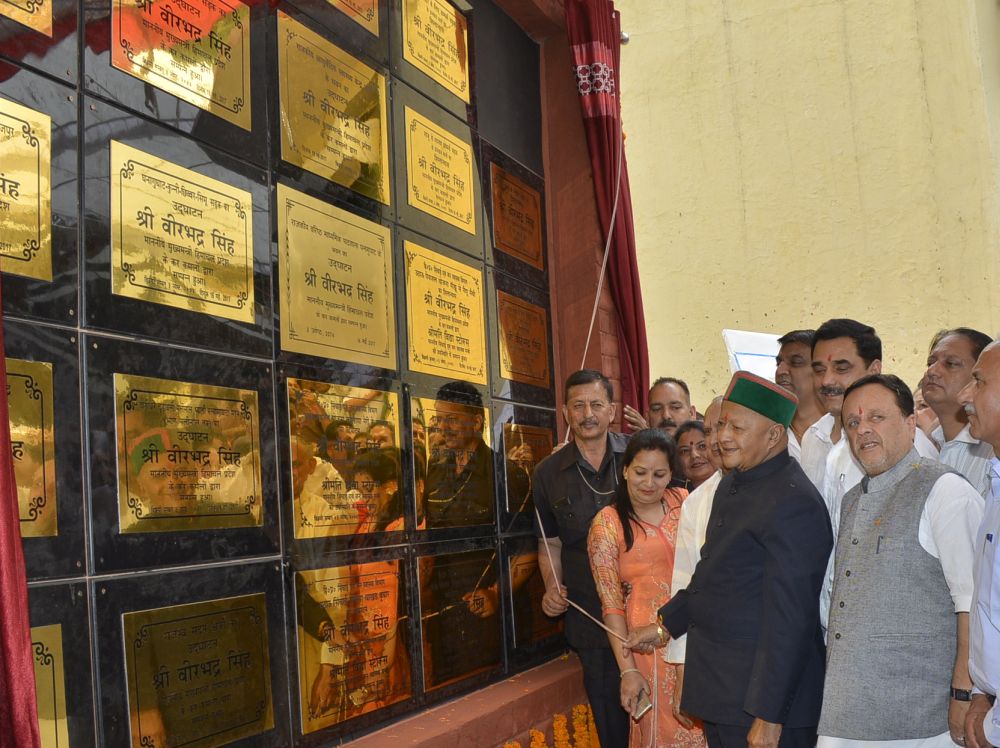 Arki: Chief Minister Virbhadra Singh announced a college to be opened at Darlaghat. The Chief Minister, addressing a public meeting at Arki today also announced expansion of bed capacity in hospital at Arki from the existing 50 beds.
He said that recently a meeting of BJP workers from almost 17 constituencies was held in Arki but the gathering today was far more, signaling the strength of the people and their faith in Congress leadership. The Congress party comprise of 'Sanjha Manch' and everybody was treated and welcomed in a graceful manner. Though the people of Arki had elected the BJP MLA from last 10 years or so, yet I have never discriminated in the field of development. If had been the Chief Minister of BJP, he would have never allotted a penny for the area having opposition MLA, he said.
The meaning of opposition did not mean that you always keep on ridiculing others. The BJP leaders of the state, I think were used to criticise and ridicule others, he said adding that whenever they refer to someone in opposition, they always spit venom. It has become their habit to speak ill about others. The personality of a person or his spoken words reflects the company they live and it seems that BJP leaders of the state were used to the unpleasant atmosphere they live in and always speak bitter.
The Chief Minister gave a call to all Congress men to stand united for achieving development. He expressed happiness that the party men of Arki were standing united and hoped they will remain united to make Congress candidate win the Assembly elections.
Virbhadra Singh said the party organisation elections should be free and fair and everyone should fill the membership forms which would be available online too. He said that he certainly would write a book as how the elections to organisations were held earlier. He advised party workers to work at the grass root level and help party to solidify its position.
Earlier Chief Minister Virbhadra Singh dedicated projects worth Rs. 31 crore to the public. He dedicated 50-bedded hospital building to the public completed with an outlay of Rs. Rs. 8.50 crore. He inaugurated ITI building constructed at a cost of Rs. 3.15 crore and Rajasav (Revenue) Sadan at a cost of Rs. 55.00 lakh at Arki.
The Chief minister inaugurated Ayurvedic Health Centre building at Bhumti to cost Rs. 45 lakh, Sub-Health Centre building at Piplughat constructed with an outlay of Rs. 22.00 lakh and Ayurvedic Health Centre at Arki completed with an outlay of Rs 17.56 lakh.
The Chief Minister inaugurated the Lift Water Supply Scheme (LWSS) Lehalana Neri in GP Duseran completed with an outlay of Rs. 37.92 lakhs to benefit population of 850 and Lift Irrigation Supply Scheme Bughar Chakhar completed with an outlay of Rs 39.53 lakhs.
He laid foundation stones of Behli to Mohal road to be constructed at a cost of Rs. 2.25 crore, span over Kandhar Samtayari Padyar road to cost Rs. 1.39 crore, MT of link road to village Dodi to cost Rs. 35 lakh, MT of link road to village Gahar to cost Rs. 20.00 lakh and link road from Manjoo to Manan to cost Rs. 78. 63 lakh and metalling tarring of Ghagar to Manjoo School to cost Rs. 4.49 crore.