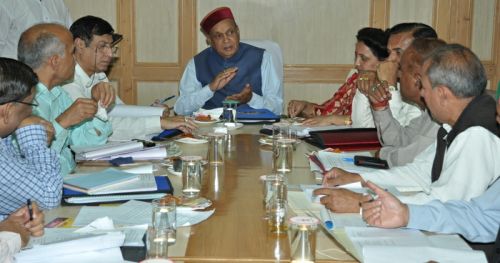 In the State-Level Vigilance & Monitoring Committee Meeting Chief Minister Prem Kumar Dhumal said that State Government was implementing Scheduled Caste/Scheduled Tribe (Prevention of Atrocities) Act, in letter and spirit to protect interests of the communities.
Chief Minister directed the authorities to view atrocities against scheduled caste and scheduled tribe seriously and ensures deterrent punishment to errant and ensures that proper respect was given to them in the society. He said that Himachal Pradesh happens to be a peaceful and communally harmonious State where people from all sections of the society co-exist in a most peaceful environment. He said that with a view to ensure speedy development of the scheduled caste and scheduled tribe communities, the State Government had earmarked a budgetary provision of Rs. 914 crore under Scheduled Caste Sub-Plan and Rs. 330 crore under Tribal Sub-Plan during current financial year. He said that the State Government had enhanced provisions in proportion to the population of scheduled castes from 11 percent to 25 percent besides spending 9 percent of the budgetary provisions under Tribal Sub-Plan. He underlined the need for change in the attitude of the people with respect to the upliftment of scheduled caste and scheduled tribe communities.
Prof. Dhumal appreciated the encouraging achievements of law enforcing agencies in checking atrocities against scheduled caste and scheduled tribe during past four years and directed them to ensure zero tolerance for atrocities against them so that no such incident could take place in the holy land of Himachal Pradesh. He underlined the need to sensitize society against such social vices and motivate people to bring about uniformity in the social system. He said that the State Government was putting in best of its efforts to speedily uplift communities by paying added attention towards their socio-economic upliftment. He advised the public representatives to lend their supportive hand in checking atrocities against these communities and create an atmosphere of social harmony. He said that State Government was committed to provide justice to all by rising above the considerations of caste, creed and colour. He said that a number of schemes were under implementation for the welfare of the minorities so that they could not only prosper economically but social as well.
Sarveen Chaudhary, Social Justice and Empowerment Minister said that the Department was sensitizing the society by creating awareness about the provisions of Scheduled Caste/Scheduled Tribe (Prevention of Atrocities) Act so that there was no knowledge gap among different communities. She said that Rs. 10 lakh had been spent over 200 awareness camps/workshops etc. organized in colleges and schools by the department. She said that provisions of Public Services Guarantee Act were also being implemented in letter and spirit.
S.K.Dash, Additional Chief Secretary, welcomed the Chief Minister and detailed out activities of the Department in checking the atrocities against communities. Dr. Abhishek Jain, Director of Scheduled Caste, OBC and Minority Affairs, conducted proceedings of the Meeting. R. R. Koundal, Deputy Speaker, HP Vidhan Sabha, Virender Kashyap, MP, Dile Ram, G.R. Musafir, Shri Yog Raj, Nand Lal, Balbir Chaudhary, Prakash Chaudhary, Kishori Lal, MLAs, S. Roy, Chief Secretary, Dr. D.S. Manhas, Director General of Police, Ajay Mittal, Principal Secretary to the Chief Minister, P.C. Dhiman, Principal Secretary Home, other senior officers were also present in the meeting.