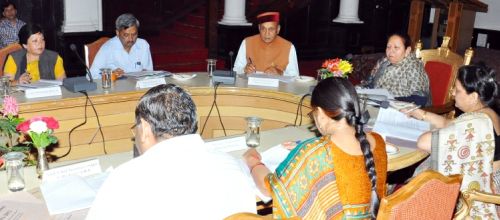 Governor Urmila Singh and Chairperson of Governing Body of Himachal Pradesh Child Welfare Council underlined the need to intensify the activities of Child Welfare Council and Red Cross Societies with a view to associate more people in the movement so as to extend facilities to more deserving sections of the society. She was addressing the Governing Body Meeting of the Council held under her chairpersonship at Raj Bhawan here today.
Governor said that State Government had been providing liberal assistance to the Council to carry forward with its activities and provide assistance to deserving children so that they could progress in their lives. She said that non-official members could play pivotal role in strengthening the centres set up for such children by paying frequent visits to carry out inspections and suggest improvements in the prevailing system. She said that there was wide scope for expansion of activities of Child Welfare Council and Red Cross Societies which were directly linked with under privileged sections of the society. She said that with the elaboration of activities of both the organizations larger sections of the society would get benefited.
Chief Minister Prem Kumar Dhumal, stressed the need for generating income for the Council by inspiring those to contribute who can afford for this noble cause. He said that it was responsibility of every section of the society to come forward in facilitating the children in Children Homes with best of the educational and vocational training facilities. He said that there was dire need to make it a mass movement so that under privileged sections could be helped in a bigger way. He said that Members of the Council could also play vital role in motivating the donors to liberally donate for the noble cause and all donations made to the Council would be exempted under the provisions of the Income Tax. He said that there was no dearth of people who had been coming forward to help weaker sections of the society with financial and other assistance. He said that the State Government was extending all possible help to the Council in carrying forward with its activities and help deprived sections of the society.
S.K.Dash, Additional Chief Secretary, welcomed the Chief Minister and conducted proceedings of the Meeting. Sarveen Chaudhary, Social Justice and Empowerment Minister, Ritu Sethi, General Secretary, HP Child Welfare Council, Principal Secretaries, Secretaries, HODs, DCs and non-official members of the Council attended the meeting.