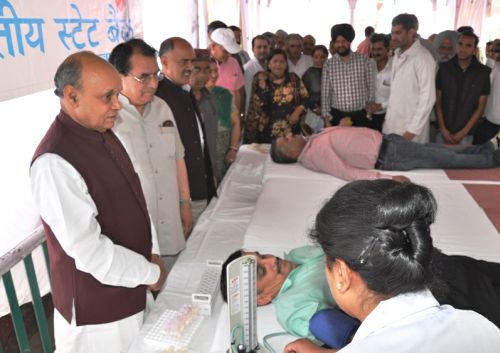 Chief Minister Prem Kumar Dhumal inaugurated blood donation camp organised at historic Ridge Maidan here today by Manav Kalyan Multipurpose Society.
He appreciated the endeavours of the NGO for organising blood donation camps which would go a long way in facilitating the needy people in their hour of emergency. He said that it was heartening to note that Himachal Pradesh had no commercial donors and blood donated on such occasions by the people was a gesture of noble cause to help the needy. He said that it was pious service towards the suffering humanity and every able bodied person needed to come forward regularly to donate blood so that same was made available to the people undergoing operation etc. He said that blood donation camps were regular exercise in the State where various NGOs had been contributing significantly.
Ganesh Dutt, Vice Chairman, HIMUDA welcomed the Chief Minister and said that Manav Kalyan Multipurpose Society had been organising blood donation camps etc. regularly and blood collected was provided to blood banks in the local hospitals.
Devaki Sharma, President of Manav Kalyan Multipurpose Society apprised the Chief Minister that NGO was engaged in providing relief to the poor and needy besides organising health check up camps, plantation drives and mass awareness camps. He said that it had involved people form all walks of life in organising such activities and it was the 7th blood donation camp organised by the Society in which more than 50 donors had donated blood.
Suresh Bhardwaj, MLA, Dr. Arun Sharma, Deputy Commissioner, Shimla, Chander Shekhar Pandit, S.P. and other senior officers were present on the occasion.