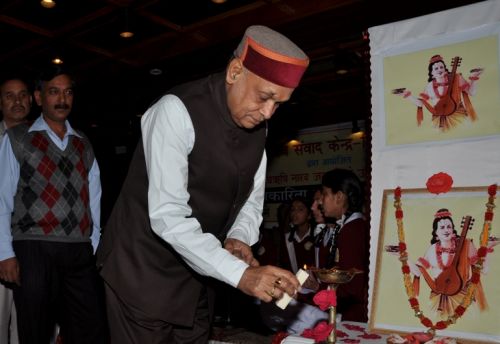 Chief Minister Prem Kumar Dhumal underlined the need that media should play a key role in right flow of information amongst the masses as they believe whatever appear in media. He was speaking on the occasion of Awards to Journalists organised by Vishwa Samwad Kendra, Himachal Pradesh here today to mark the Narad Jayanti.
Chief Minister said that eroding of credibility in every section of the society was a matter of concern and media should take a lead to restore the confidence of people being watchdog of democracy. He said that it had always taken this lead, may be freedom movement or thereafter national reconstruction.
Chief Minister said Narad was the best communicator of his time as he used to amongst the masses and take correct feed back from them. He said that one should have its own code of conduct to win the people by establishing credibility.
Prof. Prem Kumar Dhumal lauded the role of Vishwa Samwad Kendra for honouring the media persons for their best contribution.
Chief Minister honoured P.C. Lohumi, a senior journalist and Bureau Chief, PTI, Shimla, Poonam Bhardwaj, woman journalist working in Divya Himachal, Rakesh Sharma, Bureau Chief, City Channel for Electronic Media, Nikunj Sood, young journalist and Bureau Chief, Amar Ujala, Hamirpur, Amit Kanwar, Photo journalist, The Tribune for their contribution in the field of journalism. He also honoured Ravi Sankhyaan, Joginder and Puneet Kumar for their contribution in writing 'Letter to Editor'.
Narender Kumar, senior functionary of Vishwa Samwad Kendra in his keynote address emphasized the importance of media and expressed concern over changing trends in media to become first without verifying the facts. He said that media instead of service of the people was becoming commodity which needed to be looked into so as to maintain the dignity of the profession.
Dalel Singh Thakur, Head of Vishwa Samwad Kendra, Shimla Chapter welcomed the Chief Minister and Dr. Dayanand Sharma, Editor, Matrivandana proposed vote of thanks.
Ram Swaroop Sharma, Vice Chairman, Food and Civil Supplies Corporation, Shi Ganesh Dutt, Vice Chairman, HIMUDA and other prominent persons were present on the occasion among others.