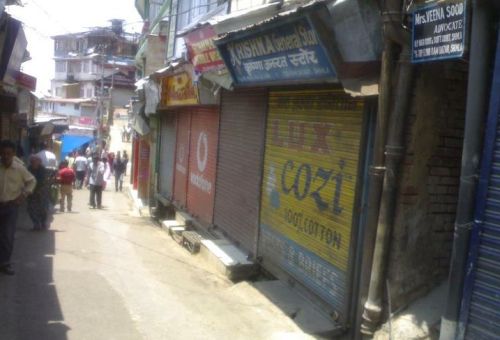 A day long nationwide Bharat Bandh against the petrol price hike brought Himachal Pradesh to a complete standstill. Shops and commercial establishments were closed across Hiamchal Pradesh as activists of the BJP and CPM protested the petrol price hike.
In capital, shops and other commercial establishment were also closed, but protesters didn't stop the traffic. Newly elected Deputy Mayor Tikender Panwar said that his party is protesting against the Center Govt decision to hike the prices and added that it will only hit common people.
State Chief Minister Prem Kumar Dhumal also joined the Bharat Bandh. He said that hike in petrol prices frequently has burdened the common man as this had let to rise in the prices of commodities including essential commodities. He said that the recent hike in petrol price was the
He had demanded immediate withdrawal of the hike made in the prices of petrol so that common man was not crushed due to its effects on other items as they were already under tremendous pressure due to price rise. He said that NDA had given 'Bandh Call' to muster public support against the anti-people decisions of the UPA Government.