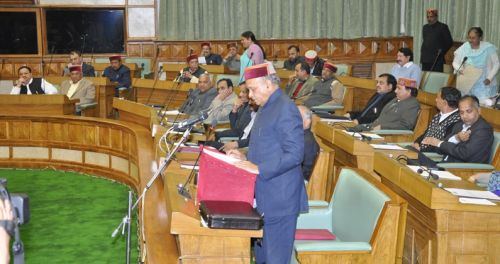 Himachal Pradesh Chief Minister Prem Kumar Dhumal presented 2012-13 budget. Here are the highlights of the budgets
• Himachal Pradesh has emerged as a leader in socio-economic development in the country as corroborated by the conferment of 58 awards on the state by different National and International agencies which depicts the progress and achievements made by the state in different fields.
• The GSDP growth rate of the state in 2011-12 is expected to be 7.6% which is higher than the national estimate of 6.9%.
• The per capita income of the state has increased from 43966 in 2007-08 to 65535 in 2010-11 and is expected to be 73608 in 2011-12.
• Total budget outlay for 2012-13 is 20243.92 crore.
• Annual Plan of 3700 cr is proposed for 2012-13. Schedule Caste Sub Plan size increased to 914.64 crore. Tribal Sub Plan increased to 333 crore.
• State's fiscal deficit for 2012-13 is projected to be 2.88% of GSDP, while a revenue surplus is expected.
• Special emphasis on better and transparent governance and improved service delivery to the citizens through e-Governance.
• Special State Subsidy Scheme on dals, edible oils and salt to be continued with a proposed budget of 130 crore in 2012-13.
• Annual Plan for 2012-13 to lay greater emphasis on agriculture, power, roads, education and health.
• New Externally aided projects for Green Growth, Urban development and power sector expected in 2012-13.
• Allocation under RIDF increased to 450 crore in 2012-13.
• MLA Local Area Development fund to be increased from 30 lakh to 50 lakh and MLAs to be authorized to sanction schemes anywhere within the district.
• Steps taken to improve the infrastructure of the judicial courts.
• Pandit Deen Dayal Kisan Bagwan Samridhi Yojna to be continued with a budget provision of w50 crore.
• Crop diversification project having a project cost of 321 crore launched.
• 131 watershed projects sanctioned in last 3 years with project cost of 1035 crore.
• Additional area of 4000 ha to be brought under different fruits for diversification in horticulture.
• Adequate fund provision under MIS scheme to ensure timely payments to the orchardists with a budget provision of 14 crore.
• Survey for feasibility of Aerial Ropeways to transport fruit produce from interior areas to the road head to be undertaken.
• Weather Based Crop Insurance Scheme to be extended to insure against hail storms in the development blocks of Theog, Jubbal Kotkhai, Narkanda and Rohru and to insure against cloud bursts in the blocks of Rampur and Chirgaon in Rabi 2012-13 on a pilot basis.
• 230 new veterinary dispensaries to be set up in uncovered panchayats under Mukhya Mantri Arogya Pashudhan Yojana.
• Milk procurement price to be increased by one rupee from 1st April, 2012 and grant of Milk Fed to be increased to 11 crore in 2012-13.
• The rate of VAT on sweetmeats and milk products manufactured and sold by manufacturers, milk federation and co-operative societies will be reduced from 13.75% to 5%.
• All Cooperative Societies engaged in milk collection, processing & marketing to be given grant equal to the market fee deposited by them.
• Procurement price of wool to be increased by 10%.
• 'Cage Culture' project to be started to give a boost to fisheries at a cost of 6.68 crore.
• Sale price of trout feed to fish farmers to be reduced by 15%.
• Mukhya Mantri Gramin Parivahan Yojna started to increase transport facility in rural areas and generate employment.
• Model Inspection and Certification Centre to be established at Taradevi, Shimla at a cost of 12.60 crore to improve safety of bus travel.
• Funding to HRTC to be increased from 113.65 crore in 2011-12 to 135 crore in 2012-13.
• Atal Swasthya Seva Yojna to be expanded by adding 27 new ambulances to provide inter-facility transfer service.
• Mukhya Mantri Vidyarthi Swasthya Karyakram to be strengthened to address health needs of school going children.
• For strengthening the reach of health services in tribal and remote areas our Government proposes to put in place mobile diagnostic units with fixed day services.
• Rashtriya Swasthya Bima Yojana to be extended to MGNREGS workers, construction and domestic workers, Ekal Naris, street vendors, and persons with more than 70% disability.
• Stipend/emoluments of PG students and Senior Residents in medical colleges to be enhanced.
• All allopathic Doctors to be reimbursed an amount of 350 bimonthly for HP Govt. CUG Mobile connection.
• Higher education allowance of PG doctors to be enhanced.
• Anomaly in pay of lecturers in Ayurvedic College vis-à-vis Ayurvedic Medical Officers to be removed.
• New Land Records and Registration Manuals to be brought out in 2012-13.
• Guidelines laid down for the first time for the issuance of Dogra, Sikh, and Muslim certificates. Now these certificates can be issued on the basis of certification by their respective notified organisations/local bodies. These certificates shall have life time validity.
• E-Stamping to be implemented in the entire state.
• 274 revenue chowkidars to be converted to daily waged in the next financial year.
• Senior Nambardars to be given a 'Samman Rashi' of 2000 per year.
• Rate of Social Security Pension to be increased from 330 to 400 PM from 1st April 2012. For persons above 80 years of age, pension to be increased to 600 PM. No income criteria for grant of pensions to persons with more than 70% disability. A budget provision of 147 crore made for Social Security Pension.
• 'State Policy for Older Persons' and 'Integrated scheme for Senior Citizens' to be launched.
• Special campaign for spreading awareness on drug abuse to be taken up.
• VAT on cigarette and tobacco products proposed to be increased from 16 to 18% and on Bidi from 9.75 to 11%.
• A gymnasium shall be established in every Panchayat and urban local body at a cost of 50,000 each.
• Provision of two advance increments for employees who adopt permanent family planning measures after birth of upto two children, both of them being girls.
• Amount deposited under Beti Hai Anmol Scheme to be increased from 5100 to 10000.
• Bal Balika Suraksha Yojna to be started to provide for foster care of destitute children/orphans.
• Self Employment assistance to women scheme to include subsidy of upto 25000 to eligible Self Help Groups along with bank linkage.
• Rate of VAT on Central Police Canteens operating in the state to be reduced to 4%.
• Pension amount of ex-servicemen and their widows not getting any other pension to be enhanced from 330 to 400 per month.
• Second World War veterans and their widows to get enhanced financial assistance of 750 per month.
• 'Samman Rashi' of freedom fighters to be increased to 7500 per month.
• 'Samman Rashi' for widows and daughters of freedom fighters to be increased from 3000 to 3500 per month.
• Bio carbon project with World Bank assistance under Mid Himalayan Watershed Development project to be launched to cover an area of 4003 Ha in 177 Panchayats.
• 96 panchayats of Una District to be covered under the JICA funded Swan Watershed Project at a cost of 160 crore.
• Target of plantation of 45 lakh medical plants kept under Sanjha Van Sanjivani Van Yojna for 2012-13.
• Plantation of sandalwood on private land permitted.
• 25 new centres for sterilization of monkeys to be opened at cost of 10 crore in 2012-13 for tackling monkey menace in the state.
• Proposal submitted for removal of inhabited villages from Protected/Sanctuary areas.
• Budgetary allocation for roads and bridges proposed at 2113.04 crore in 2012-13.
• Skill Upgradation Council to be set up under the Chief Secretary to take steps for improving employability of youth.
• Monthly ration allowance of police personnel to be increased by 50%.
• New police stations at Fatehpur and Kala Amb to be set up. New Police Chowkis to be set up at Tanda (Kangra), Sorang (Kinnaur), Tahliwal (Una) and Neoli (Kullu).
• New fire posts to be set up at Dalhousie, Jogindernagar, Sujanpur, Nurpur, Jwalamukhi and Keylong.
• MOU signed with NTPC for setting up of Hydro-Power Engineering College at Bandla (Bilaspur).
• IIIT to be started soon in Una District.
• New polytechnics to be set up in Bilaspur, Kullu, Sirmour, Kinnaur and Lahaul & Spiti in 2012-13.
• HP Self Reliant Cooperative Societies Bill to be introduced to encourage self-reliant and autonomous cooperative societies in the state.
• 33% reservation to be provided for women in Managing Committees of Co-operative Societies.
• Sanction of w428.22 crore obtained from Asian Development Bank for Tourism Project.
• 12 Tourism circuits to be developed in the state in 2012-13 under 'Har Gaon Ki Kahani' scheme.
• New aerial ropeways to be exempted from payment of entertainment tax for 5 years. Rate of tax on existing ropeways reduced from 25% to 10%.
• New Hotels in tribal and hard areas to be exempted from payment of luxury tax for a period of 10 years.
• Marble figurines to be installed in temples to be totally exempted from payment of VAT.
• Funds required for material component of schemes under MGNREGS to be met out as per estimates by convergence with other schemes/projects so that durable assets are created. Now 40:60 ratio of material to labour guidelines will not be a constraint for construction of durable assets.
• 11,400 rural poor to be provided housing assistance at the rate of 48,500 in 2012-13.
• Budget of w10 crore proposed under "Guru Ravi Dass Civic Amenities Scheme" during 2012-13 to bridge the infrastructural gaps in SC dominated villages.
• Total fund devolution to PRIs to be 208.95 crore.
• A scheme called 'Local Self–Government through Women Empowerment' to be started for training and capacity building of women representatives.
• Remuneration of contractual employees of PRIs to be increased annually by 3%.
• Grant to Gram Panchayats for payment of emoluments to Panchayat Chowkidars to be raised from 850 to 1050 PM.
• Honorarium of Tailoring Teachers to be increased from 1400 to 1600 per month.
• Minimum monthly payment of Takniki Sahayaks to be increased to 5500 P.M.
• Minimum monthly payment of Gram Rozgar Sevak to be increased from 1500 to 1800 per month.
• Honorarium of the elected members of all the three tiers of PRIs to be enhanced.
• A new scheme called Atal Adarsh Gram Panchayat Puruskar Yojna to be started in 2012-13. Best performing Panchayats to be given prizes of 2 lakh at the Block level, 5 lakh at District level, 10 lakh at Division level and 20 lakh at State level. Prizes worth w2.5 crore will be given annually.
• Provision of w200 crore made to subsidize cost of electricity charges for water supply & irrigation facility.
• Medium Irrigation Project, Phina Singh sanctioned with a project cost of w204.51 crore and budget provision of w40 crore made in 2012-13.
• Medium Irrigation Project, Nadaun sanctioned with a project cost of 103.45 crore & budget provision of 25 crore made in 2012-13.
• Work on Seer Khad channelization to be started for which a budget provision of 13 crore is proposed in 2012-13.
• All partially covered habitations to be provided with water supply and 2500 hand pumps to be installed in 2012-13.
• Budget of 1383.09 crore proposed for irrigation and water supply in 2012-13
• 41 Primary & 51 Middle schools to be set up in left-out areas to ensure 100% coverage.
• Remuneration of PTA teachers to be enhanced.
• Remuneration of Part Time Water Carriers (PTWC) to be increased from 1200 to 1300 PM in 2012-13. A committee with representatives of PTWC and NGO Federation to be constituted to delve upon the problems of the PTWCs whose recommendations shall be considered sympathetically.
• Honorarium of PATs will be increased from 6000 to 6500 and from 4500 to 5000.
• Policy for authorizing School Management Committees in remote areas to hire teachers on period basis as a short interim measure to be formulated.
• "Atal School Uniform Yojna" launched at a cost of 60 crore.
• "Atal Nirdhanta Chatravriti Yojna" to be launched for children of BPL families.
• Top 4000 students of +1 to be provided Aakash Tablet/laptop in order of merit as secured in Class10.
• Additional grant of 13 crore to be given to HP University in 2012-13 thereby increasing their total grant to w63 crore.
• PG classes to be started in Government Degree College Ghumarwin, Karsog, Dehri, Nadaun, and Palampur in 2012-13.
• New colleges to be opened in the state as per requirement.
• AGiSAC established in the State to aid in planning.
• For stimulating the thinking of children towards science, a "Virtual Centre" has been established in association with Indian Institute of Science, Education & Research (IISER), Mohali.
• Total fund devolution of 93.02 crore to Urban Local Bodies.
• Additional license fee on liquor transferred to ULBs to be increased from 1 to 2 per bottle.
• Possibility of increasing existing FAR norms in urban areas to be examined.
• Honorarium of representatives of ULBs to be enhanced.
• A rebate of 5% on the electricity duty for period of 5 years to be given to all new industrial units that comes up in the state w.e.f. 1st April, 2012.
• Minimum wage rate of daily-wagers in govt. to be raised from 120 to 130, with a corresponding increase in per hour rate of part-timers from 1st April 2012.
• Daily-waged and contractual employees who complete 8 years of service on 31.03.2012 to be regularized, as per norms.
• Part-time employees who complete 10 years of continuous service as on 31.3.12 to be made daily wager as per norms.
• Ex-gratia grant to be increased from a minimum of 20,000 to 35,000 with maximum limit raised from 50,000 to 1,00,000.
• Rates of fixed travel allowance and TA/DA to be enhanced.
• Professional Education Loan upto 75,000 for children of employees to be introduced.
• Award scheme for technical departments to be started for timely and within cost completion of works.
• 7% DA to be released to employees along with current month's salary and arrears from July, 2011 with the salary of April, 2012.
• Pensioners to be released 7% DA along with arrears and also the pay revision arrears in April 2012 in cash.
• Rate of Fixed Medical Allowance to be increased to 250 from 100.
• Drivers to be paid two advance increments on completion of 20 years of service.
• A policy for absorption of employees of PSUs on secondment with government to be framed.
• Prizes of w1 crore, 50 lakh and 25 lakh to be given to Himachali players who win Gold, Silver and Bronze medal in the London Olympics.
• In five years hydel power generation capacity to increase by over 43% to reach 9152 MW.
• HPSEBL to be granted equity of 50 crore in 2012-13.
• Subsidy on electricity to be increased from 140 crore to 190 crore.
• Dealers to be provided the facility to get C, E, F, H forms online.
• Category C and D contractors with turnover of upto w30 lakh not required to file any returns for that year after payment of TDS @ 3%.
• Procedure to bring small & medium dealers under deemed assessment category to be simplified.
• Turn-over limit for registration & exemption for payment of tax for dhabas, canteens & other eateries to be enhanced from 4 lakh to 5 lakh per annum.
• Traders with turnover less than 20 lakhs to be provided accidental insurance cover of 1 lakh by Govt.
• Entry tax on non-ferrous metals to be reduced from ½% to ¼%.
• All journalists in the state to be covered under Rashtriya Swasthya Bima Yojana with an insurance cover of 1.75 lakh.
• The corpus of Journalist Welfare fund to be increased from 10 lakh to 25 lakh.
• Newsprint used for printing of newspapers to be exempted from levy of entry tax.