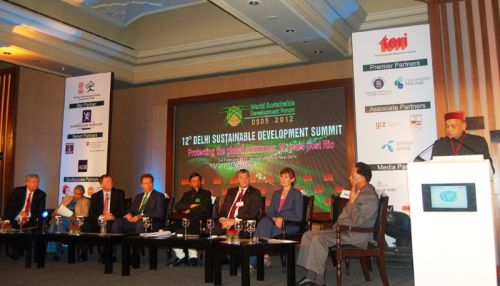 Himachal Pradesh is poised to become carbon neutral by the year 2020 by undertaking "carbon smart growth", asserted Chief Minister Prem Kumar Dhumal while speaking at the 12th Delhi Sustainable Development Summit organised by The Energy and Resource Institute on "Protecting the Global Commons; 20 years Post Rio" at New Delhi today. He said that Himachal would be first state in the country to become carbon neutral by 2020.
He said that state Govt has inventoried Greenhouse Gas (GHG) emission for assessing the carbon footprints and said that the carbon footprint per capita in Himachal Pradesh has been assessed at 1.4 tonne per capita in comparison to national average of 1.57 tonnes per capita.
He said that state Govt has signed ERPA MoU with World Bank for harnessing carbon credits to generate carbon Revenues amounting to Rs 20-cr for 20 years under "Bio-Carbon Projects " in 177 gram panchayats in 4000 hectare land in 10 districts of the state.
He advocated the market based instrument "Payment for Eco-system Services" for maintenance, conservation and expansion of pristine Himalayan flora and fauna and pleaded for dedicated funds and support by developed nations to phase out obsolete technologies and for R& D activities for new technologies both in climate change and environment infrastructure. Prof Prem Kumar Dhumal said that state Govt has prepared Environment Master Plan for sectoral guidelines in environmental protection and added that State Government would launch "State Centre on Climate Change" shortly in Shimla which would serve as centre of excellence for co-ordinating research on climate change.
Chief Minister announced that Government had set up "Virtual Centre" of "State Centre for Science, Learning & Creativity" which will be dedicated to the state on 10th February next in presence of Dr R.K. Pachauri, Director General TERI. He said that all the Government departments have been asked to carry out their energy and environment audits and introspect on action and policies for mitigation and adaption measures.
Prof Dhumal said that State Government had started a mission called "Community Led Assessment, Awareness, Advocacy & Action Programme' (CLAP) for environment protection and carbon neutrality at panchayat level under which initially 1000 panchayats will be covered in the State. He said that so far around 250 panchayats have been covered including the remotest Lahaul Spiti areas of Himachal Pradesh.
He said that State Government has constituted "State Level Governing Council" and "Executive Council on Climate Change" to oversee and coordinate the activities on climate change in the State. He told that series of meetings and seminars had been organised on climate changes for legislatures, Government departments, industry and media to raise awareness and sensitivity on the environmental issues in the state.
Chief Minister said that State Government has promoted the use of non-conventional energy sources for space heating and discourage use of charcoal, coal, fossil fuels etc to reduce GHG emission and stated that State Government has formulated Organic Farming Policy, 2011 to phase out the excessive use of chemical fertilizers and promote organic farming in the state. He said that State Government was strengthening "Appropriate Technology Centre" for promoting green building culture in the state and added that State Government is working for expansion of rail and ropeways network in the State to check pollution and GHG emission .He told that State Government has signed MOU with GAIL for supply of pipe gas for fuel requirements of local residents and added that Government is promoting environmental friendly solar passive technologies and rain water harvesting system in the State.
Chief Minister said that State Government has been conferred with "Prime Minister's Award for Excellence in Public Administration for Sustainable Waste Management". He said that the use of plastic carry bags, plastic cups and tumblers in the State had been banned. He said that State Government had promoted the use of polythene waste in road construction and cement kilns as fuel substitute. He said that Himachal Pradesh had taken a lead to organise Chief Minister's Summit on Himalayan States on "Glaciers, Climate Change & Livelihood" which led to establishment of "Himalayan Sustainable Development Forum" for better cooperation on sustainable development in Himalayan region. He told that State Government had developed an integrated and comprehensive approach towards building a sustainable and climate resilient economy by involving the general masses .He told that conservation issues have been made part of education curriculum with 9 point Environment Conservation Code under which emphasis had been laid on saving water, protecting trees and encompassing environmental issues. He said that code is recited by all school children in the morning assembly to prepare future environmental sentinels.
Prof Dhumal said that State Government had launched Atal Bijli Bachat Yojna to reduce energy consumption and GHG emission by distributing 4 CFLs free to every domestic consumer in the State and added that it had been mandated to release of 15% minimum low flow in all hydel power projects to preserve downstream riverine ecology. He said that State Government has established "Aryabhatta Geo –information & Space Application Centre" to facilitate decentralized planning and rational decision making through integrated natural resources data management system and added that State Government was developing the tools and methodologies for green accounting in planning and budget process.
He advocated the setting up of Trans Himalayan Development Authority as the ecological maintenance and sustenance of Himalayan eco system was critical for survival and livelihood of people in the downstream States.