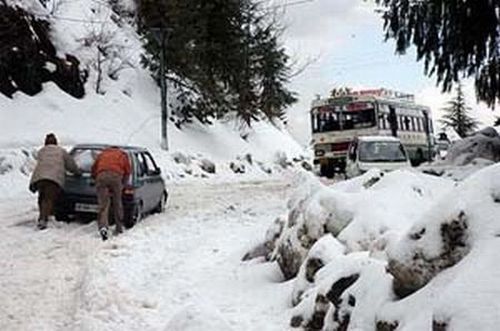 A spokesman of the State Government said that electricity, water supply and telecommunication services have been restored in all major places in the State and steps were afoot to put these in order in interior areas. Major roads which were closed due to heavy snowfall in various parts of the State particularly in districts of Chamba, Shimla, Kullu and Kinnaur had also been opened. He said that in Chamba district all major roads had been opened whereas clearances of roads were in full swing in the rural belts of the district. As per reports received from district headquarter Chamba-Bharmour road had been opened upto Gehra besides Chamba-Salooni road upto Manjir for vehicular traffic. He said that Chamba-Bhanjraru had been opened for both heavy and light vehicles.
He said that Shimla-Narkanda road had been cleared for the traffic but as a precautionary measure the commuters are advised to travel via Basantpur for Rampur and Kinnaur. He said that rural roads which had been blocked due to snowfall would be opened soon by taking restoration work on war footing. In Rohru area, local bus services are plying.
As per reports received from Lahaul-Spiti district, the road from Keylong to Udaipur and Keylong to Darcha had been opened for light vehicles. He said that as far as Kullu district was concerned, all major roads had been opened for vehicular traffic and the buses to Nirmand and Ani were plying via Karsog.