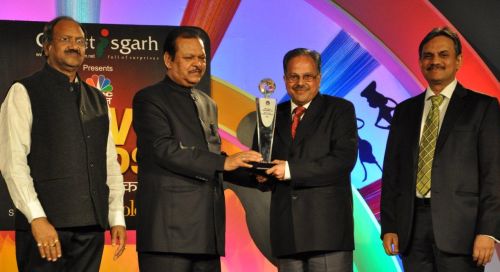 Himachal Pradesh has been awarded three prestigious national awards in tourism sector. Director Tourism Dr Arun Sharma was received CNBC Travel awards 2011 from union tourism minister Subodh Kant Sahay in a function held in hotel Taj Palace New Delhi. CNBC AWAAZ in association with India's leading research organization, The Nielsen Company conducted an exhaustive consumer response survey with an objective to felicitate the best in the travel and tourism industry.
Shimla the queen of seven hills has been declared as most preferred mountain /hill destination in the India while the Himachal has been declared the most preferred state in trade and commerce in tourism sector. The eco sphere in Spiti has been declared the best society in the country for promotion of environmental tourism.
While congratulating the tourism department for getting national reorganization for their outstanding contribution in the tourism sector, Chief minister Prem Kumar Dhumal said that tourism is the largest service industry in state and added that target has been set to generate 25% of state GDP through tourism sector in next five years and tourism sector will emerge as largest employer in the state in coming years .He said that tourism department has been integrated with all the departments of the state which has resulted in its multi dimensional growth from various sectors .He told that all the young officers will be trained in tourism sector to increase their vision and expertise on the global tourism platform.
Chief Minister told that the rise of tourism industry in the state has been made possible with the sheer spirit and determination of various stakeholders and these awards have recognized the tourism department and individuals who are championing, driving and supporting the tourism industry in the state. He told that Govt. has decided to make mandatory tenure for young officers in the tourism department at various levels to understand them about the vastness and importance of tourism sector and their role in the promotion and development of tourism sector. He said that Himachal is emerging as a leading tourist destination for domestic and international travelers, and added that there are still a large number of unexplored destinations making it the potential tourism hub worldwide.
Chief Minister Prem Kumar Dhumal said that special emphasis has been laid to develop rural tourism through Har Gaon ki kahani in which popular folk tales have been organized to involve the interests of the visiting tourists and increase their stay in the area. He said that tourism sector will ensure the speedy development of rural areas of the state and added that environment and tourism has both grown simultaneously in the state.