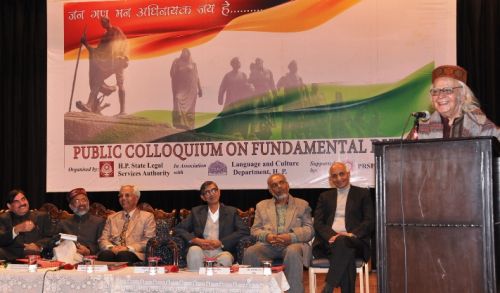 Chief Justice of Himachal Pradesh High Court, Justice Kurian Joseph has emphasized the importance of Fundamental Duties and urges people to create awareness about these among the citizens to fulfill the cherished dream of constitution makers. He said it in a public colloquium on scientific temper, humanism and the spirit of inquiry and reform organized jointly by the Himachal Pradesh State Legal Authority (HPSLA), SEWA Trust, Public Relations Society of India (PRSI), Shimla Chapter and Language, Art and Cultural Department (LAC), here today. This was eighth colloquium in the series.
Justice Kurian Joseph said that the public colloquium being organized by HPSLA, PRSI, SEWA and LAC had been a great success and had gone a long way in creating awareness amongst people, particularly students. Replying to a question of a student during the interactive session about the heavy burden that students had to bear on account of getting maximum marks, Justice Kurian Joseph said that if some system does not suit, one should come forward to tell about its short comings so that corrective measures could be taken.
Justice Joseph, who is inspiring spirit after public colloquium on Fundamental Duties, said that next colloquium would be organized in the H.P. University Auditorium on 13th November, 2011 on Fundamental Duties: Safeguard of Public property and Abjure Violence. Prof. Yash Pal, an eminent scientist and former Chairman of Union Grant Commission, underlined the need to bring changes in the educational pattern, so as to ease the unnecessary pressure on students. He said that it was necessary to inculcate the scientific temper in the students and there was need to distinguish between great deal of science and technology and scientific temper. New initiatives and flexibility were required and good changes should always be accepted in the educational system.
He said that needlessly pressuring the children with the burden of studies was a wrong concept as knowledge could not be delivered and it has to be created. The teacher and student relations should be of creation of new knowledge, not delivery of knowledge. Expressing concern over the excessive use of internet and other forms of information technologies for gaining information and studies was not a positive sign so far as all-round development of students was concerned. Prof. Yash Pal emphasized that instead of concentrating on a particular field of education, the emphasizes should be to learn all disciplines for over all development. He said that intimacy was most important for humanity by which we learn a lot in our life. Humanity and scientific temper should go along as both were important aspects of personality.

He said that increasing coaching centers were also not good sign of our education system, as this was taxing the mind of the students. Earlier, Justice R.B. Mishra, Judge, Himachal Pradesh High Court and Executive Chairman, Himachal Pradesh State Legal Authority said that the Authority was committed to provide free legal assistance to the needy and deserving sections of the society including women, children, minor inmates and senior citizens having less than two lakh income annually. Justice Kuldeep Singh, Judge, H.P. High Court in his key note address dwelt on the scientific temper, humanism and the spirit of inquiry and reform. He said that parents and teachers should impress on building scientific temper and eagerness in students so that they could handle their problems well. He also dwelt upon the development of scientific advancement with the passage of time and also development through legal process. Prof. P.K. Ahluwalia, Chairman, Physics Department, H.P. University detailed out the importance of scientific temper and development of science and technology by giving some specific examples. An interactive session on Fundamental duty was also organized in which students from various schools of Shimla and other participated in large number. Justice Sanjay Karol, Judge, H.P. High Court, Senior & former Judges, D.S. Manhas, DGP, Meenakshi Chowdhry, Chairman, SEWA Trust, Petron of the SEWA Trust and a veteran journalist, Vepa Rao, and B.D. Sharma, Chairman, Shimla Chapter of Public Relations Society of India, were also present.