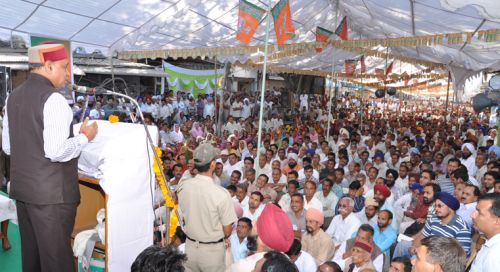 Chief Minister said that development of Nalagarh area had always remained priority of the present State Government and a number of development works and schemes had been taken in hand by it to accelerate the pace of development further. He was addressing a public meeting at Nalagarh after performing the foundation stone laying ceremony of Rs. 17 crore Sewerage Scheme for Nalagarh town to be constructed in four zones to benefit over 50,000 population in the area. He also dedicated newly constructed bridge on Gurukund-Tali road constructed at a cost of Rs. 77 lakh, Gurukund-Talai road completed at a cost of Rs. 1.80 crore and also performed foundation stone laying ceremony of Jogindra Central Co-operative Bank building at Nalalgarh estimated to cost of Rs. 1.4 crore.
Dhumal said that industrial development in Nalagarh-Baddi-Barotiwall area had been given big boost by giving special attention for infrastructure development. He said that Rs. 20 crore had been sanctioned for the improvement, maintenance and repair of roads in the Baddi-Barotiwala, Nalagarh area out of which about Rs. 9 crore was being spent in Nalagarh area only. Dhumal announced up-gradation of Nalagarh Hospital from 50 bedded to 100 bedded and sanctioned Rs. 1.03 crore for construction of staff quarters for doctors and paramedical staff to ensure medical services to the people round the clock.
He said that Rs. 82.22 crore were being spent on construction of express highway in the area. He said that three more National Highway had been proposed to be constructed out of which two would be passing through Nalagarh area. Chief Minister said that out of 322 kms of roads constructed in Solan district during last 3½ years, 87 kms had been constructed in Nalagarh area besides cross drainage, mettling and tarring of roads in the district. He said that Rs. 28 crore were being spent to maintaining the National Highways in the district, especially in industrial areas of Nalagarh-Baddi-Barotiwall. He said that Rs. 104 crore had been spent in Nalagarh segment by the present Government during past 3½ years on drinking water supply schemes & irrigation schemes while about Rs. 18 crore was being spent during current financial year in the area. He said that an Ambulance under Atal Swasthaya Sewa would be provided in Ramshehar area soon.
Dhumal lauded the splendid services by late Sh. Hari Narayan Singh Saini to the area and paid gloving tributes to him. He s aid that Shri Saini has served the people of the area for long period and his passing away had created a vacuum in politics and development of the State. He said that 107 vacancies in different cagetories in Jogindra Central Cooperative Bank would be filled up by this years end. He s aid that bank employees would get bonus of Rs. 38 lakh before Diwali. He said that the State Government had provided financial benefits worth Rs. 5500 crore to the State employees during past 3½ years.
Chief Minister said that the State Government was spending over Rs. 1200 crore on various schemes of Agriculture, Horticulture and Animal Husbandry activities in the State since over 90 percent of population was inhabitating rural areas and over 70 percent were dependent on agriculture for their livelihood. He appealed to the people to take benefit of all such schemes which contained subsidy component upto 80 percent under some schemes and employment and self-employment for themselves. He said that Rs. 300 crore Pandit Deen Dayal Kisan Bagwan Samridhi Yojna, Rs. 353 crore Dood Ganga Yojna, Rs. 85 crore Apple Replantation Scheme and Bhed Palak Samridhi Yojna were some of the schemes being launched by his Government for the benefit of farmers.
Earlier while dedicating the newly constructed ITI building completed at cost of 52 crore to the students and laying foundation stone of Girls ITI estimated to cost of Rs. 2.50 crore. Chief Minister congratulated the Management Committee of the Institute for ranking 2nd among 1365 ITI's in the country in imparting quality training in skill upgradation to the youth. He said that the State Government had associated the members of industrial sector in managing the ITI in the State so that the youth were imparted training in emerging trades. He said that it was heartening to note that all youth who had qualified ITI had either in set up self employment venture or got placement. He said that the State had accorded high priority for the skill upgradation by providing youth vocational education so that they could find suitable employment avenues in public and private sectors. He underlined need for change in the mental attitude and motivate youth to adopt vocational education as an carrier building which had vast scope to employment and self employment avenues.
Virender Kashyap, Member Parliament said that Nalagarh had got big momentum in development as Government had given maximum funds for the purpose. He detailed the development works undertaken in the area. Rajiv Sehjal, MLA and BJP President District Solan welcomed Chief Minister and thanked for dedication developmental projects worth crores of rupees to the people of Nalagarh. Gurnam Kaur, wife of former MLA Late Hari Narayan Singh Saini expressed gratitude towards the concern shown by Prem Kumar Dhumal in making the last wish of her husband come true by giving special attention for the development of the areas. She said that irrigation sector remained preferably of her husband to benefit the farmers in the area. Narender Bragta, Horticulture and Technical Education Minister, Dr. Rajiv Bindal, Health Minister, Vinod Chandel, MLA Ram Sawroop Sharma, Vice-Chairman, State Civil Supplies Corporation and State BJP General Secretary, Laj Kishore Sharma, Chairman, Jogindra Central Cooperative Bank Vandana Chairperson Panchayat Simiti were also present on the occasion.