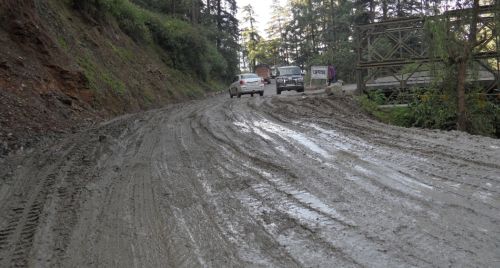 Citizens of Shimla are hoping to heave a sigh of relief from the daily traffic jam in the city with the inauguration of the new ISBT. But, the real trouble still remains in the form of bad road conditions that don't allow traffic to move smoothly because of the potholes. There is no word from the Chief Minister, PWD Minister and City Mayor on this serious issue as of now. Connecting road to the ISBT Tutikandi from Khalini side is in an appalling state and small vehicles even find difficult to cross a few areas that have big potholes. The road bears the same sad condition from the past two years and the PWD department hasn't come up with any plan to give it a facelift.
Today, Chief Minister Prem Kumar Dhumal dedicated the ISBT to the people of the area. The most shocking thing being that the road from where the chief minister's convoy had to pass was quickly metalled by the department (the barrier side), while the other side, where people from the New Shimla, Khalini, Kasumpati, Panthaghati and adjoining places will come from to the Bus Stand, still bears the same look with potholes. Sadly, the department has no answer about this partiality.
People from Tutikandi and adjoining place, who take the road on a daily basis, have been facing a lot of problems. Poor road conditions are causing heavy damage to private vehicles. The condition at some places is so grave and can prove to be a reason for major accidents. Apple season is at its peak and commuting through such terrible conditions causes a lot of losses, but seems the department has turned a deaf ear to all the complaints.